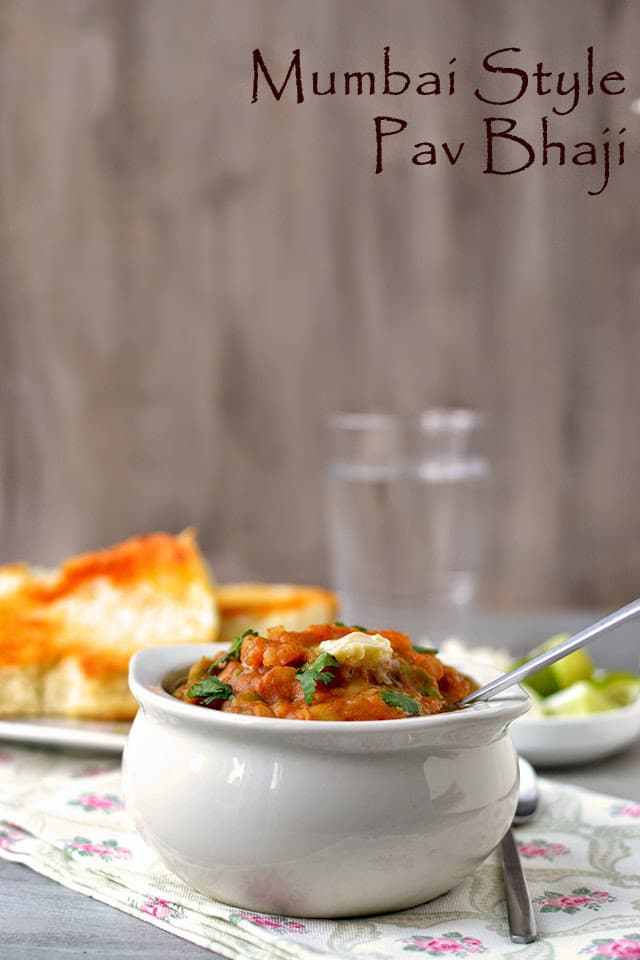 Mumbai Style Pav Bhaji
Recipe by Cook's Hideout
Visit website
---
---
---
---
Ingredients
1 pepper
1 potatoes
2 tomatoes
roasted chickpeas
1 tsp chili powder
1½ tsps Ginger+Garlic
roasted chickpeas
1 onion
1 tbsp Pav Masala
roasted chickpeas
roasted chickpeas
2 tsp lemon juice
to taste Salt
pav Buns
onion
cilantro
wedges Lemon
butter
---
Method
Prepare Bhaji: Heat 1tsp oil and 2tsp butter in a pan, add capsicum and cook till tender -- add some water to help in cooking.
Next add mashed potatoes, tomatoes, green peas, ½tsp red chili powder, 1tsp ginger+garlic paste, turmeric and add some more water to cook the veggies.
Mash the veggies with a potato masher until very smooth. If the mixture looks too thick, then add some water to thin it out. Bring the mixture to a boil.
Add 1tsp pav bhaji masala, salt and chopped cilantro. Keep mashing and cooking till the mixture thickens.
In a small pan, melt 2tsp butter, add onions and remaining ½tsp of ginger+garlic paste, ½tsp red chili powder, 1tsp pav bhaji masala and lemon juice. Cook till the onions turn translucent.
Add the onion mixture to the veggie mixture and mix well. Cook for 4~5 minutes, mashing the curry to get a very smooth mixture. Now the Bhaji is ready to serve.
Prepare Pavs: Melt some butter on a tawa/ griddle along with some chopped cilantro, pinch of pav bhaji masala and pinch of red chili powder. Roast the split pav buns in the butter until lightly toasted.
Serve immediately with the bhaji along with finely chopped onions, cilantro, lemon wedges and a generous blob of butter.