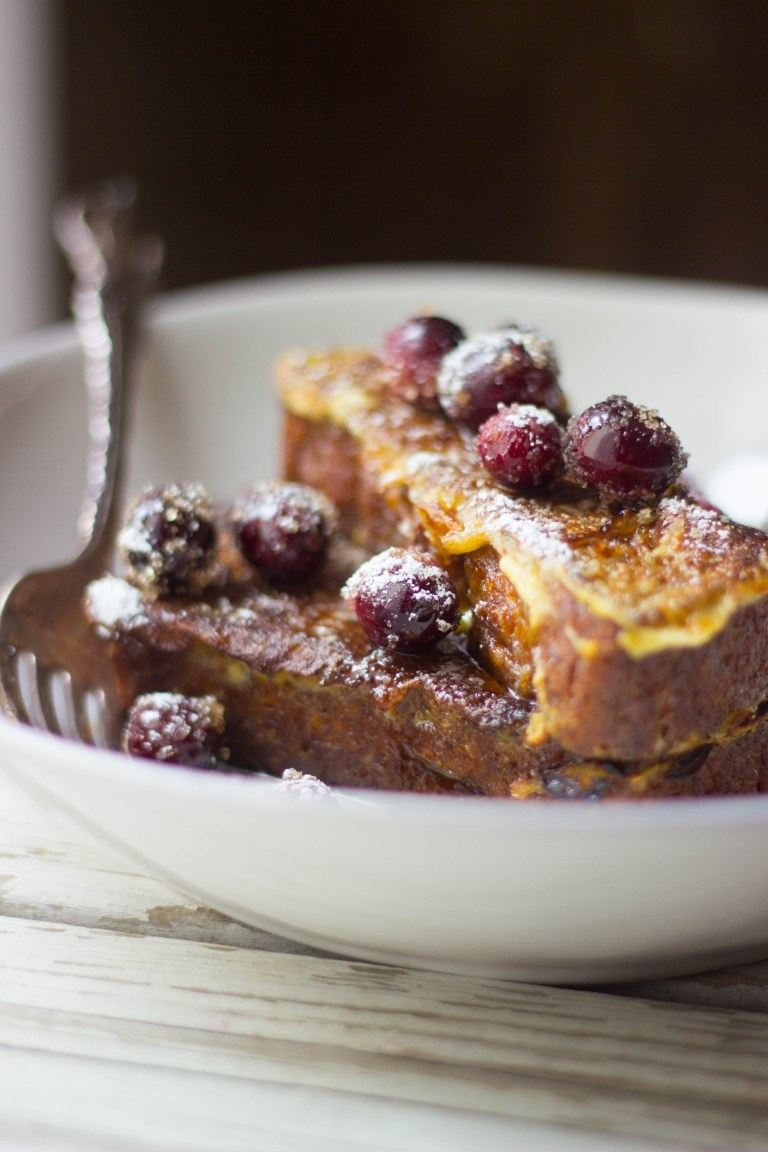 Pumpkin Eggnog French Toast
Recipe by The Gourmet RD
Visit website
---
---
---
---
Ingredients
1 (15 oz.) can pumpkin puree
4 tbsp oil
3 eggs
0.5 tbsp brown sugar
1 cup oat flour
1.5 tsp baking powder
0.75 tsp baking soda
0.75 tsp coarse salt
0.75 tsp ground cinnamon
0.25 tsp ground nutmeg
0.25 tsp ground ginger
pinch ground cloves
1 tbsp granulated sugar
1 cup egg nog
3 eggs
1.5 tsp vanilla extract
pinch of each ground cinnamon, nutmeg, ginger, cloves
butter or cooking spray
sugared cranberries or other berries
pure maple syrup
---
Method
Preheat oven to 350 degrees. In a medium bowl, whisk together pumpkin puree, oil, eggs and brown sugar until combined.

In a separate medium bowl, whisk together flour, baking powder, baking soda, salt, cinnamon, nutmeg, ginger and cloves. Add dry ingredients to wet ingredients, slowly, whisking until just combined.

Pour batter into a greased loaf pan. Sprinkle top with granulated sugar. Bake 55-65 minutes, until toothpick inserted in center comes out almost clean.

Once bread is cooled, slice into 10 slices. Heat a large skillet, cast iron pan or griddle to medium-high heat. Grease with butter or cooking spray.

In a medium bowl, whisk together egg nog, eggs, vanilla extract and spices.

Dip pumpkin bread slices into the eggnog mixture, then place in the skillet. Allow to cook 2-3 minutes, until browned, then flip and cook an additional 2-3 minutes.

Repeat with remaining slices of pumpkin bread. Serve with sugared cranberries, berries and/or maple syrup.