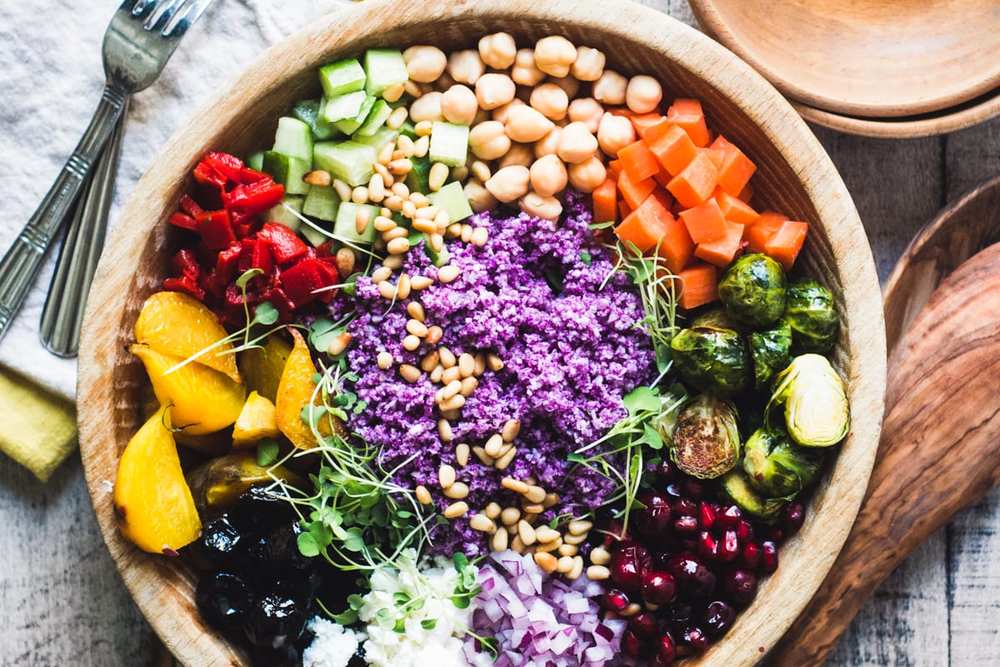 Purple Cauliflower Rice Salad
Recipe by The View From the Great Island
Visit website
---
---
My healthy Purple Cauliflower Rice Salad is gluten free and colorful ~ combining roasted and raw veggies for tons of antioxidants, vitamins, and fiber!
---
---
Ingredients
1 head of purple cauliflower
1 carrot
0.5 cup drained and rinsed chickpeas
1 small Persian cucumber
0.33333333333333 cup roasted red peppers
1 golden beet, roasted and cut in small wedges
1 cup roasted Brussels sprouts
0.5 cup black olives
0.5 cup crumbled feta cheese
0.25 cup finely minced red onion
0.5 cup roasted cranberries and/or pomegranate seeds
garnish
handful of toasted pine nuts
sprinkle of micro-greens
dressing
juice of 1 blood orange
3 tbsp olive oil
2-3 tbsp champagne vinegar
pinch salt
---
Method
Remove the florets from the head of cauliflower and trim excess stems (a little of the top stem is fine to leave on) Put the florets in a food processor and pulse until they become evenly ground into a coarse grain-like texture, much like couscous. Put the cauliflower rice into a salad bowl and toss with some of the dressing.
Arrange the other ingredients around the cauliflower, drizzle with dressing, and garnish with the nuts and micro-greens. Alternatively you can toss everything together.
To roast beets and Brussels sprouts toss them lightly in olive oil, season with salt and pepper, and put on a baking sheet. Roast in a 375F oven for about 30 minutes or until just tender.
To roast cranberries put on a baking sheet and roast for just 5-6 minutes in a 350F oven, just until they start to pop.