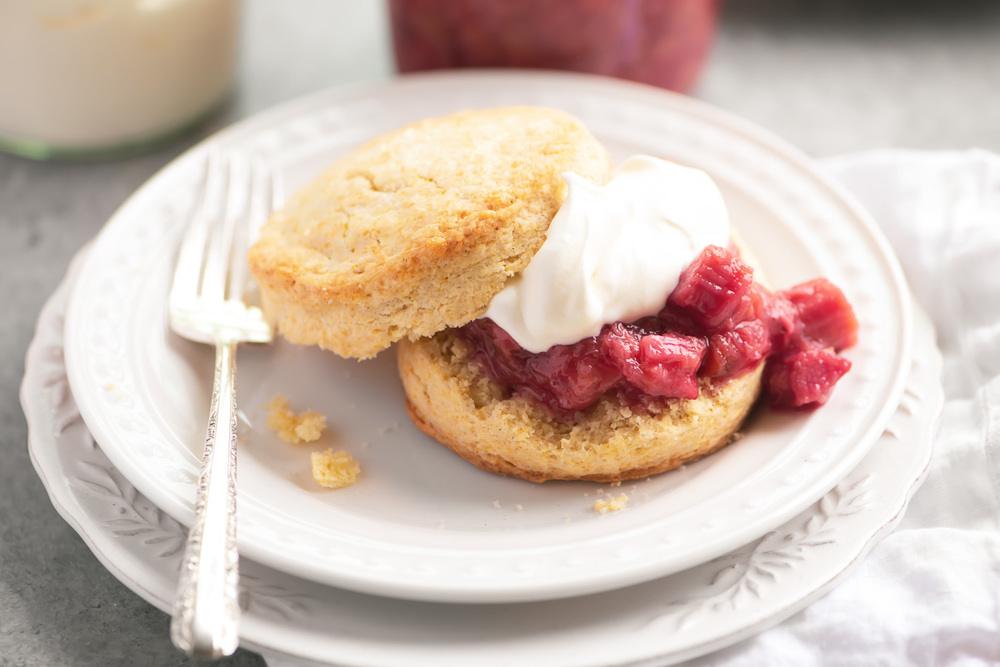 Rhubarb Shortcake (make ahead!)
Recipe by The View From the Great Island
Visit website
---
---
Rhubarb Shortcake ~  one taste of this easy and elegant spring dessert and you'll never settle for strawberry shortcake again!
---
---
Ingredients
scone shortcakes

3 cups (426 grams) all purpose flour

¼ cup (56 grams) granulated sugar

1 tbsp baking powder

½ tsp baking soda

¾ tsp salt

6 ounces (170 grams) cold butter

(cut in pieces)

1 large egg

(50 grams)

about 3/4 cup (172 grams) heavy cream, measure as directed below, plus more for brushing

1 tsp vanilla bean paste

rhubarb compote

1 and 1/2 pound (650 grams) trimmed and thinly sliced rhubarb, about 6-7 cups

1 cup (225 grams) granulated sugar

2 tsp vanilla bean paste

garnish

sweetened whipped cream
---
---
Method
Preheat oven to 400F Line a baking sheet with parchment paper
Pulse the flour, sugar, baking powder, baking soda, and salt in a food processor until combined.
Pulse in the cold butter until it's well dispersed, about 30 pulses.
Crack the egg into a glass pint measuring cup and add enough cream to make 1 cup. Add the vanilla paste and whisk to combine.
Transfer the flour mixture to a large bowl and add the liquid, mixing just until the dough comes together, it will still be crumbly. Turn out onto a lightly floured surface and knead briefly to bring it together into a flat disk. Knead until no dry flour remains. Note: if your dough is too dry, add a touch more cream.
Roll out the dough gently to about 3/4 inch, and cut 8 scones, reforming the dough as necessary. I used a 3" biscuit cutter.
Place the scones on the baking sheet and refrigerate for 10 minutes.
Meanwhile put the sliced rhubarb (it will be about 6-7 cups) and sugar in a saucepan, and add 1/4 cup water. Bring to a simmer over medium heat, stirring to dissolve the sugar. Let the mixture gently bubble until the rhubarb releases its juices and softens, stirring often, about 5-8 minutes. I like to keep the lid loosely on the pan to retain the moisture. If the mixture seems dry, add a little more water. Stir in the vanilla paste at this time and set aside.
Brush the tops of the scones with a little cream, and bake for about 15-17 minutes, just until they've risen and are starting to turn golden. Don't over bake.
To serve, split the scones with a fork, and spoon some of the compote over one half, being sure to get some juice along with the fruit. Top with whipped cream, and the other half of the scone.
The shortcakes can be served warm, or at room temperature.