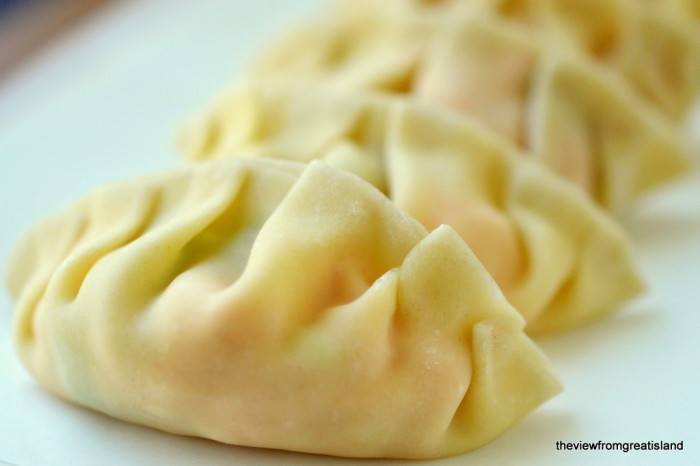 Salmon Potstickers with Wasabi Sauce
Recipe by The View From the Great Island
Visit website
---
---
Tender homemade Salmon Potstickers with Wasabi Sauce...this appetizer is so good you might be tempted to skip dinner.
---
---
Ingredients
round gyoza or potsticker wrappers

(find them in the refrigerated section)

½ lb salmon, poached*

1 bunch (about 8) spring onions

1 tbsp grated fresh ginger

salt and fresh cracked pepper to taste

peanut oil for sauteing

sesame seeds and snipped chives for garnish

(optional)

wasabi sauce

½ cup mayonnaise

½ cup loosely packed fresh cilantro

1 clove garlic

(finely chopped)

1 tbsp grated ginger

2 to 3 tsp wasabi powder or paste

3 tbsp lime juice

½ tsp sugar
---
---
Method
To make the sauce: Put all the ingredients in a small food processor and process until everything is mixed and the cilantro is finely ground. Taste to adjust the seasonings. Refrigerate until needed.
Cut the salmon into a small dice and put in a bowl. Trim and thinly slice the spring onions, using the white part, and several inches of the tender green part. Add in the ginger, lemon juice, salt and pepper. Mix everything together, breaking up the salmon a little as you mix, but retain some texture, you don't want to grind it into a paste.
Set out a small bowl of water next to your work area. Lay out a gyoza wrapper and place a small mound, about a teaspoon, of the salmon mix into the center. Dip your finger into the water and run it around the edge of the circle to dampen it. Fold the dough over the salmon and pinch it together at the center top.
Make little pleats on either side of the center top, folding the dough toward the center and working with the front of the dumpling only, Pinch the dough together as you fold. This forms a little pouch.. If you have trouble with the folds, just pinch the dumpling together along the edges in a simple half moon shape.
Heat a saute pan over medium high heat. Coat the bottom with oil and when the oil is hot, set the dumplings in the pan, flat bottom side down. You should hear a good sizzle when you put them in, if not, wait longer for the oil to get hotter.
When the dumplings are a rich brown on the bottom, about 2 minutes, pour about 1/8 cup water into the pan and cover the pan tightly. Let the dumplings steam for another 2 minutes or so,
Serve hot, with sauce on the side.