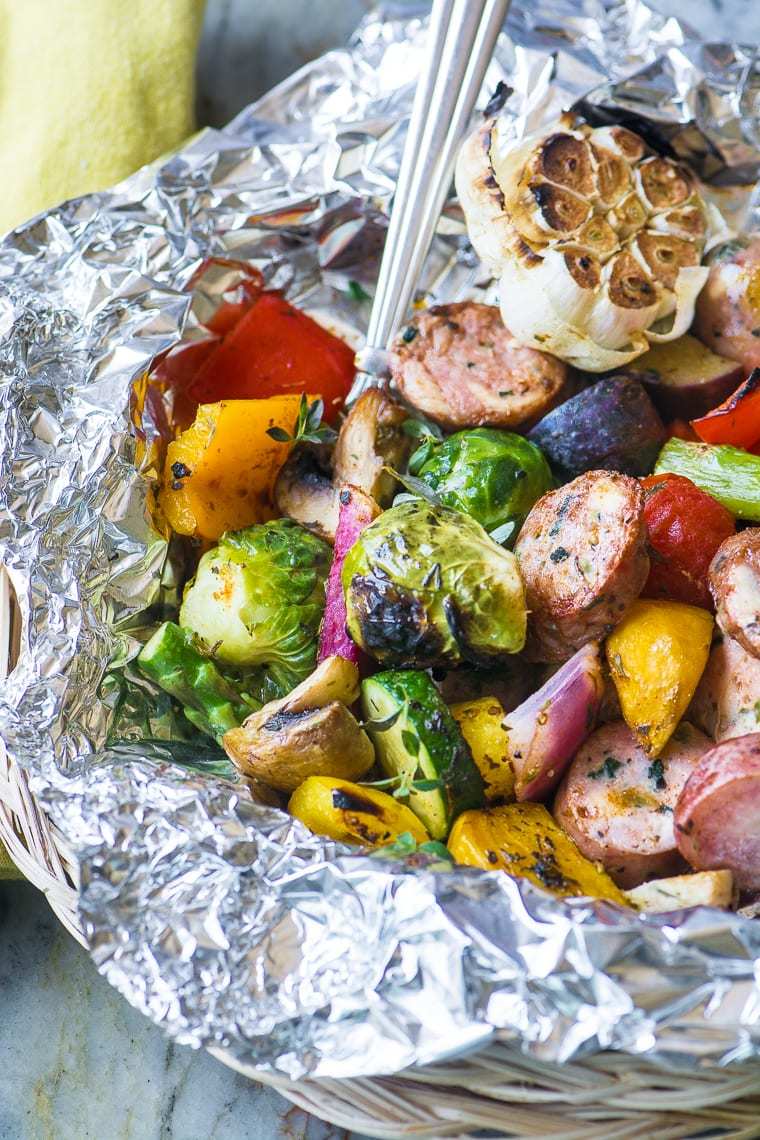 Sausage and Veggie Grill Packets
Recipe by The View From the Great Island
Visit website
---
---
Sausage and Veggie Grill Packets ~ pile your sausage and veggies onto a sheet of foil, wrap it up, and throw it on the grill ~ dinner's ready in 30 minutes!
---
---
Ingredients
4 pieces of heavy duty foil, approximately 22 inches long
1 package of 4 pre-cooked sausage
4 cups assorted vegetables, chopped in bite sized pieces ~ I used the following, amounts are approximate:
0.25 cup each, red, yellow, green, and orange bell peppers, cut in bite sized chunks
1 ear yellow corn, cut in 1 inch wheels
0.5 red onion, peeled and cut in 1 inch chunks
4 large white mushrooms
4 Brussels sprouts,
1 small zucchini
1 small summer squash
2 stalks asparagus, sliced in 2 inch pieces
1 watermelon radish, sliced in half moons
8 cherry tomatoes
4 small heads garlic
2 tbsp Italian seasoning
salt and fresh cracked black pepper
0.25 cup olive oil, plus more for drizzling
---
Method
Slice the sausages into bite sized pieces, on the bias.
Put the vegetables (except garlic) in a large mixing bowl and toss with enough olive oil to moisten everything, about 1/4 cup or so. Add your seasoning mix, and salt and pepper to taste. Toss well.
Put about a cup of vegetables and one of the sliced sausages on each piece of foil. Drizzle with more olive oil if you like. Don't mound them up too much.
Bring up the long ends and fold over, like a lunch bag. Roll up the sides so that no juice can escape. Note that you want your packets to be relatively flat, so the food makes contact with the high heat of the grill or broiler and roasts, rather than steams.
Place the packets right on a hot grill, cover, and cook for about 20-30 minutes. You can also broil the packets, on high, on the rack nearest the flame (place a baking sheet or large piece of foil below to catch any stray drips.) Note: if your packets are cold from the refrigerator they may take extra time.
Be careful when opening the packets, the steam will be very hot.