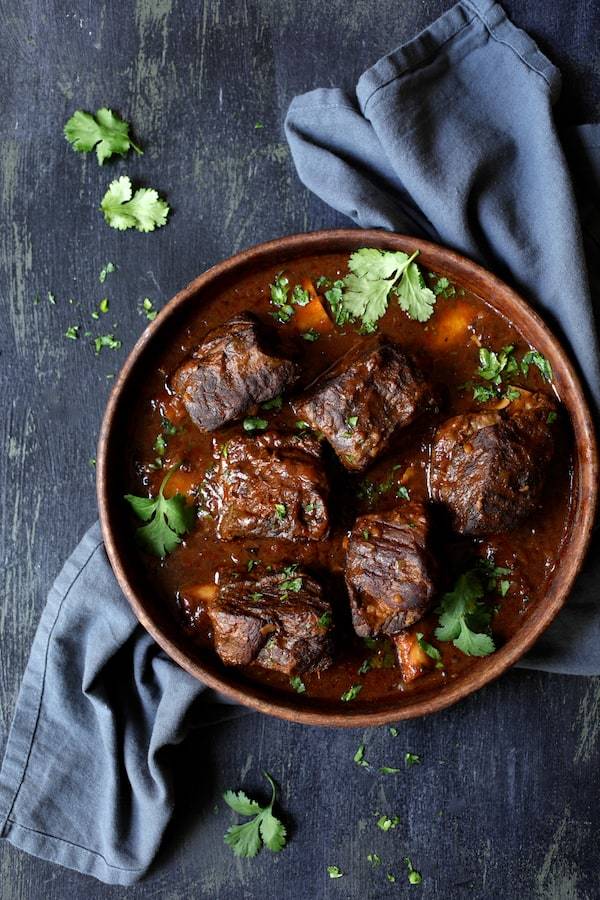 Slow Cooker Beef Short Ribs Barbacoa with Cilantro Lime Cauliflower Rice
Recipe by From a Chef's Kitchen
Visit website
---
---
Slow Cooker Beef Short Ribs Barbacoa are tender, succulent, spicy and delicious!  Cilantro Lime Cauliflower Rice is the perfect accompaniment!
---
---
Ingredients
short RIBS
4 cups beef broth
1 can (10-ounce) tomato puree
4 canned chipotle chiles in adobo sauce
2 tablespoons white vinegar
2 tablespoons dried Mexican oregano
1 tablespoon ground cumin
2 teaspoons ground coriander
3 whole cloves
2 bay leaves
3 tablespoons canola or olive oil
6 long-cut beef short ribs
1 large onion
12 cloves garlic
salt and freshly ground black pepper
3 tablespoons cornstarch
fresh cilantro and sprigs
cauliflower RICE
2 (1-pound) bags cauliflower pearls
4 cloves garlic
3 tablespoons olive oil
2 tablespoons lime, juiced
salt and freshly ground black pepper
0.5 cup cilantro
---
Method
SHORT RIBS: Combine first 9 ingredients in a slow cooker. Set slow cooker on High (4 hours) or Low (8 hours), depending upon your preferred cooking time to preheat.
Heat oil in a large skillet or saute pan over medium-high heat. Season short ribs generously with salt and black pepper. Brown well on all sides. Place in slow cooker.
Place onion in the skillet. Reduce heat to medium and cook the onion for 3 to 4 minutes to soften and get the browned bits off the pan. Add the garlic and cook 30 seconds or just until fragrant. Transfer to slow cooker. Cover and cook 4 hours on High or 8 hours on Low.
Remove 1 cup of the liquid and let cool slightly. Add the cornstarch and stir until smooth. Add it back to the slow cooker and let slow cooker continue cooking on High for several minutes to thicken. (Sauce will thicken more upon standing.)
CAULIFLOWER RICE: Preheat oven to 375 degrees. Place cauliflower on a large baking sheet. Stir in garlic. Drizzle with olive oil and lime juice. Season to taste with salt and black pepper. Roast for 10 to 12 minutes or to desired doneness. Stir in cilantro.