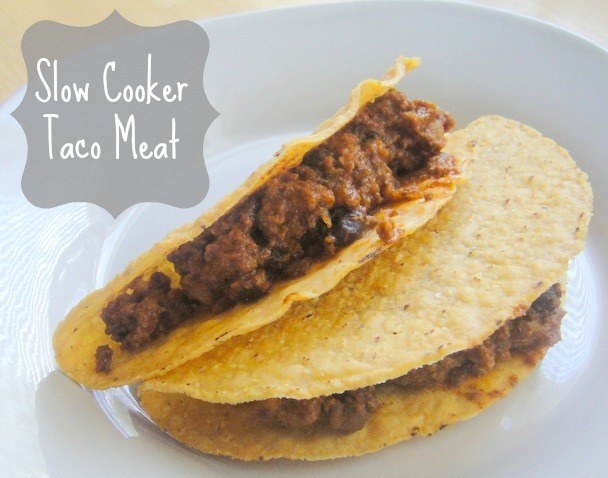 Slow Cooker Beef Taco Filling
Recipe by Organize Yourself Skinny
Visit website
---
---
Each week tacos find their way onto my menu plan. Along with homemade pizzas it is one of our go to family meals. Taco meat is super easy to make, the kids love it, and one of my favorite freezer meal recipes. Beef taco filling, because it is so easy to make, is not a ... Read More about Slow Cooker Beef Taco Filling
---
---
Ingredients
2 slices whole wheat bread

¼ cup 1% milk

2 lbs lean ground beef

½ teaspoon salt

¼ teaspoon freshly ground pepper

2 tablespoons vegetable or olive oil

2 medium onions

(minced)

¼ cup chili powder

6 garlic cloves

(minced)

2 teaspoons ground cumin

2 teaspoons ground coriander

1 teaspoon dried oregano

1 ounce 8 can tomato sauce

2 teaspoons cider vinegar

2 teaspoons brown sugar

(light or dark)

1 ounce 14 can black beans *optional
---
---
Method
In a medium bowl, using a fork, mash together the milk and bread until it forms into a paste. Using your hands mix in the ground beef, salt, and pepper. Set aside ** the bread and milk paste help to keep the beef moist throughout the slow cooking process.
In another medium bowl stir together the vegetable oil, onions, garlic, chili powder, cumin, coriander, and oregano. Microwave for 4 – 5 minutes. This blooms the spices which helps to keep the flavors pronounced during the slow cooking process.
Add the onion and spice mixture along with the beef mixture into the slow cooker. Next stir in the tomato sauce, cider vinegar, and brown sugar. Without over mixing break up some of the larger pieces of beef.
Cook on low 6 to 8 hours. **Mine cook for just 6 hours but your slow cooker could be different.
When done use a spoon to break up the beef into smaller pieces or whatever texture you prefer. If using, stir black beans in.
**please note I used a 6 qt slow cooker for this recipe.