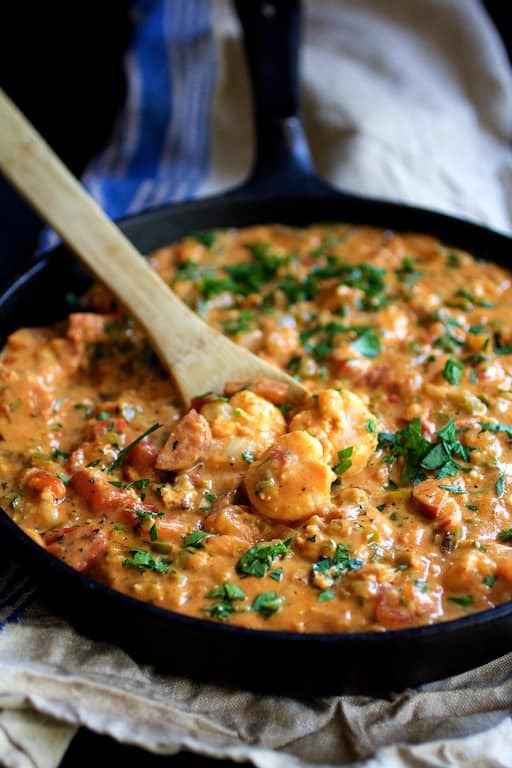 Smothered Shrimp with Andouille Sausage and Creamy Parmesan Peppercorn Grits
Recipe by From a Chef's Kitchen
Visit website
---
---
This rich, decadent New Orleans-inspired Smothered Shrimp and Andouille Sausage with Creamy Parmesan Peppercorn Grits is perfect for your Fat Tuesday!
---
---
Ingredients
shrimp
2 tablespoons butter
1 tablespoon olive oil
1 small Onion
1 small green bell pepper
1 stalk celery
4 cloves garlic
2 tablespoons all-purpose flour
1 tablespoon Cajun seasoning, or to taste
0.5 teaspoon cayenne pepper, or to taste
7 oz cooked Andouille sausage
14.5 oz chicken broth
15 oz canned diced fire-roasted tomatoes
1 pound large wild-caught American shrimp
0.33333333333333 cup heavy cream
salt and freshly ground black pepper
2 tablespoons chopped parsley plus more for garnish
grits
3 cups chicken broth
salt
0.5 cup quick grits
0.5 cup freshly grated Parmesan cheese
2 tablespoons heavy cream
1 tablespoon freshly ground black pepper
---
Method
SHRIMP: Heat butter and oil in a large, heavy skillet over medium-high heat. Add the onion, reduce heat to medium-low and cook 3 to 4 minutes or until beginning to soften. Add the green bell pepper and celery. Cook 7 to 8 minutes or until very soft.
Stir in garlic, flour, Cajun seasoning and cayenne and cook briefly (15 seconds).
Add sausage, chicken broth and tomatoes. Bring to a boil, reduce heat to low and simmer for 8 to 10 minutes or until reduced slightly and thickened.
Stir in shrimp and cook 2 to 3 minutes or until just firm. Stir in heavy cream and heat through. Serve with grits.
GRITS: Bring chicken broth to a boil. Add salt to taste. Slowly stir in quick grits and cook per package directions. Stir in cheese, cream and black pepper. Serve with shrimp.