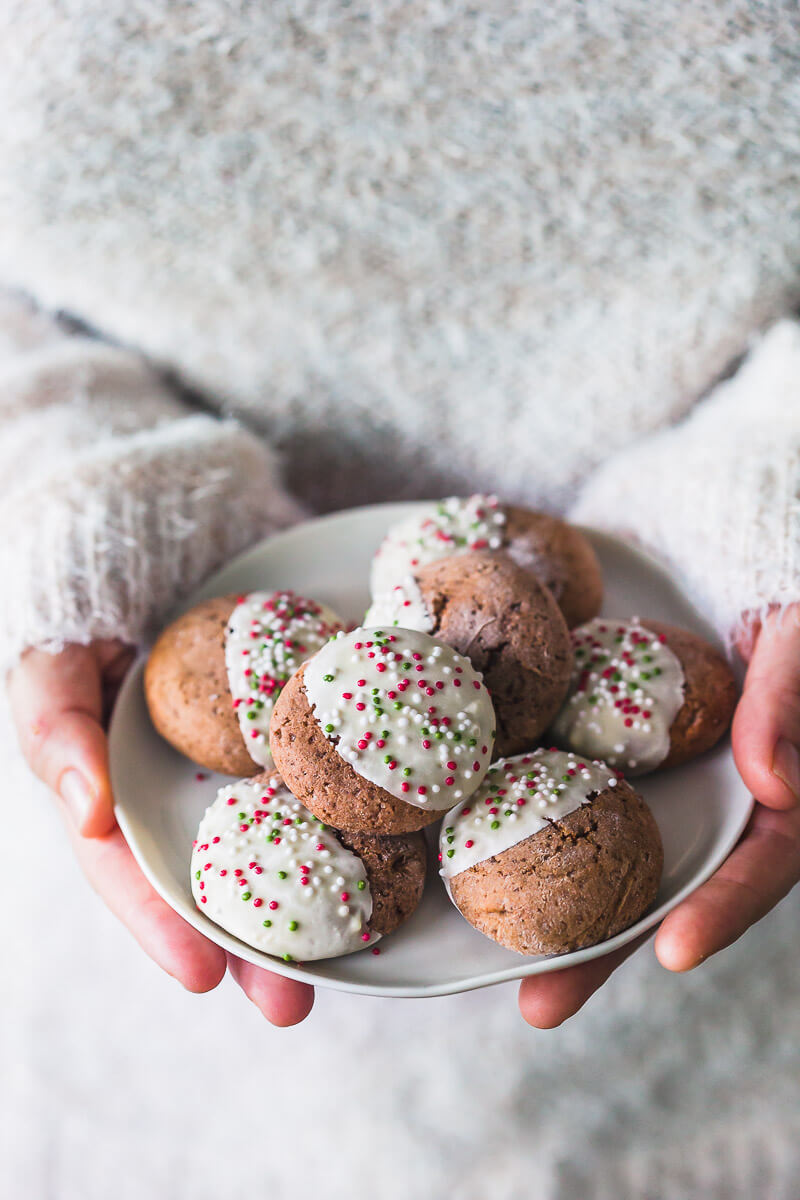 Soft Gingerbread Cookies with White Chocolate
Recipe by Vibrant Plates
Visit website
---
---
---
---
Ingredients
250 grams rye flour
3 ts baking powder
100 grams sugar
1 tbs gingerbread spice mix
1 ts ginger spice
1 ts cinnamon
2 ts cacao
3 eggs
125 grams honey
decorations:
100 grams vegan white chocolate
sugar pearls
---
Method
In a large bowl combine dry ingredients: rye flour, baking powder, sugar, gingerbread spice mix, ginger spice, cinnamon and cacao.
Crack eggs in a separate bowl and whisk, then add to dry ingredients. Lastly, add honey to the mixture and knead in cookie dough. The dough will be sticky, if needed you can add a bit of wheat flour, to make it more managable. Then, cover the bowl with cling foil and place in fridge for at least half an hour to set.
Preheat oven to 160°C / 320°F.
Remove dough from fridge and with a teaspoon, take out small bits of dough and shape into a ball. With your thumb press down the middle of the ball to flatten it. If your dough is still sticky, dust each dough ball lightly with wheat flour when shaping.
Place each cookie on a baking tray lined with baking paper and repeat until you use up all of the dough.
Place baking tray in preheated oven and bake 12 minutes, then remove from oven and place cookies on a rack to cool off.
Once the cookies are cooled, decorate with white chocolate. Use a vegan brand to keep dairy-free. Break chocolate down into small pieces and place in a steel bowl and over bain-marie (water bath) to melt. Stir to ensure an even melt.
Dunk gingerbread cookies in white chocolate until half covered, drain the excess chocolate and place cookie on a tray lined with baking paper to set. Sprinkle with sugar pearls on top. Repeat until you decorate all of the cookies, then place them in a cool room or fridge to set the chocolate quickly.
Store gingerbread cookies in an air-tight containers to soften up.