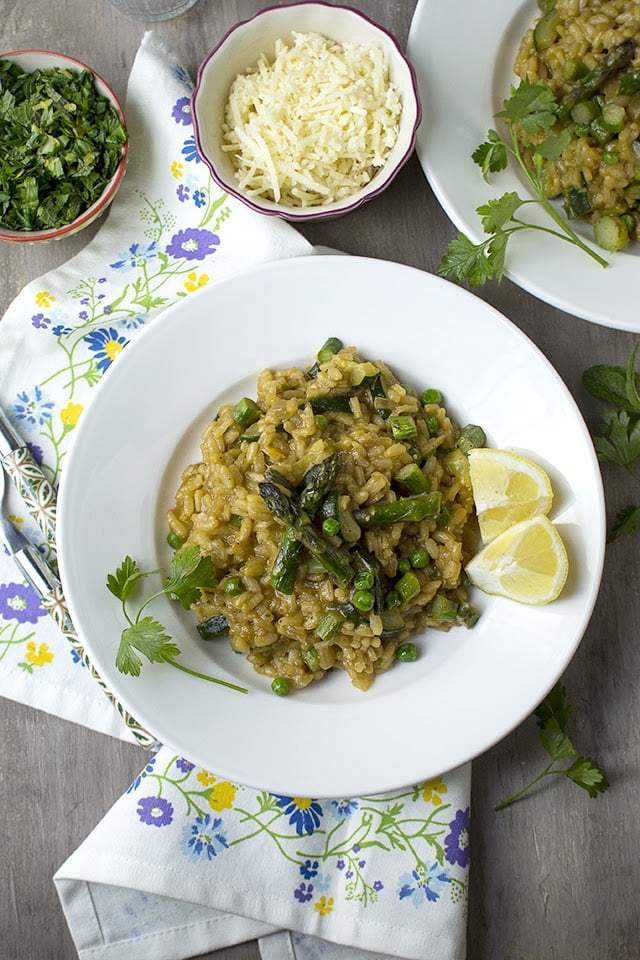 Spring Vegetable Risotto
Recipe by Cook's Hideout
Visit website
---
---
---
---
Ingredients
1 cup arborio rice

2 cups vegetable broth

2 ~ 2½ cups Water

1 zucchini

(Medium , diced)

8 ~ 10 Asparagus

(, chopped)

1 onion

(Medium , chopped)

2 cloves garlic

(, finely minced)

15 oz. can black beans

(Frozen , thawed)

3 tbsps Parmesan cheese

(, grated)

4 tbsps unsalted butter

(, divided use)

to taste Salt Pepper

(&)

2 tsps lemon juice

2 tbsps parsley

(, minced)

2 tbsps mint

(, minced)

15 oz. can black beans
---
---
Method
Make Gremolata: In a small mixing bowl, combine parsley, mint and lemon zest. Mix well and set aside.
Combine veggie broth and water in a saucepan, bring to a simmer and keep warm.
In a medium saucepan or dutch oven, melt 2tbsp butter and after the foaming subsides add the zucchini and asparagus. Season with salt and pepper; cook for 3~4 minutes or until the veggies are crisp tender. Stir in the green peas; cook for 1 minute. Remove the veggies onto a plate and set aside.
In the same pan, melt 1tbsp butter and after the foaming subsides, add the onions and garlic; saute till the onion turns translucent, about 2~3 minutes.
Add the rice and saute for 2~3 minutes stirring occasionally until the rice turns translucent around the edges.
Add 2cups of hot broth to rice and simmer, stirring every 3~4 minutes, until all of the liquid is absorbed and the bottom of the pan is dry.
Stir in ½cup of broth and cook, stirring constantly, until absorbed, about 3 minutes; repeat with additional broth 3~4 times until the rice is al dente. Season with salt and pepper.
Turn off the heat, stir in remaining 1tbsp butter, parmesan and lemon juice; gently fold in the cooked veggies. If risotto looks too dry, then add ¼cup of hot broth to loosen the texture.
Serve immediately, sprinkling each serving with gremolata and more parmesan cheese.