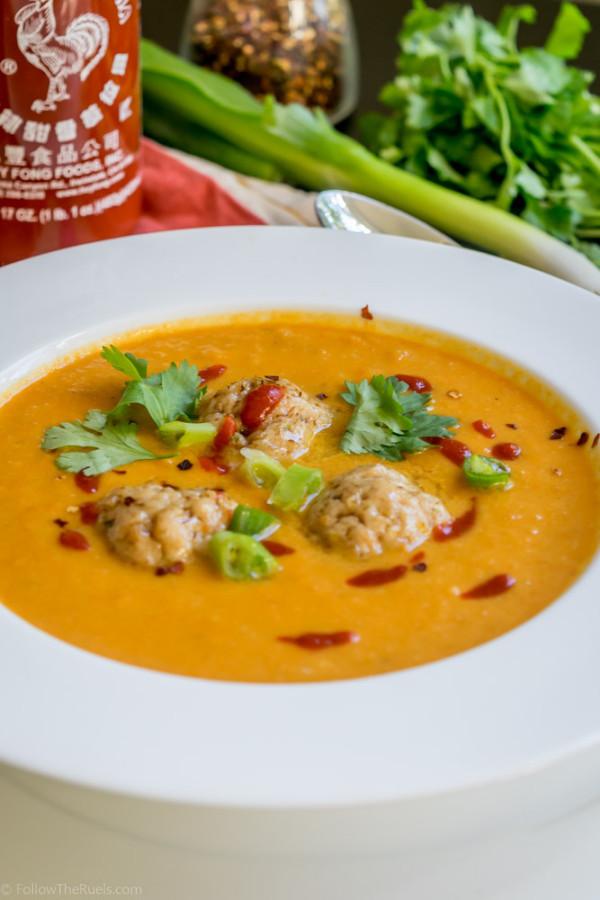 Thai Carrot Soup
Recipe by Follow the Ruels
Visit website
---
---
A sweet and spicy Thai carrot soup recipe topped with Thai style turkey meatballs.
---
---
Ingredients
1 lb carrots
0.5 onion
2 cloves garlic
1 carton chicken stock (32 oz) about 3 1/2 cups
0.25 cup creamy peanut butter
2 tbsp coconut cream
2 tsp chili paste
1 tsp Sriracha
salt and pepper to taste
---
Method
Preheat oven to 400 degrees. Lay carrots in one layer on a baking sheet. Bake for 15 minutes, or until easily pierces by a fork. Remove from oven and roughly chop into 1 inch pieces. In a large pot over medium high heat, drizzle 1 tsp olive oil in the bottom of the pan. Add onion and garlic and saute until translucent. About 5 minutes. Add in chopped carrots and stock. Bring to a boil. While still boiling, add in peanut butter, coconut cream, chili paste, and Sriracha. Stir until combined. Reduce heat to low. When no longer boiling, use an immersion blender to blend all ingredients together and puree carrots until smooth. Ladle into a bowl and top with cilantro, red pepper flakes, and meatballs.