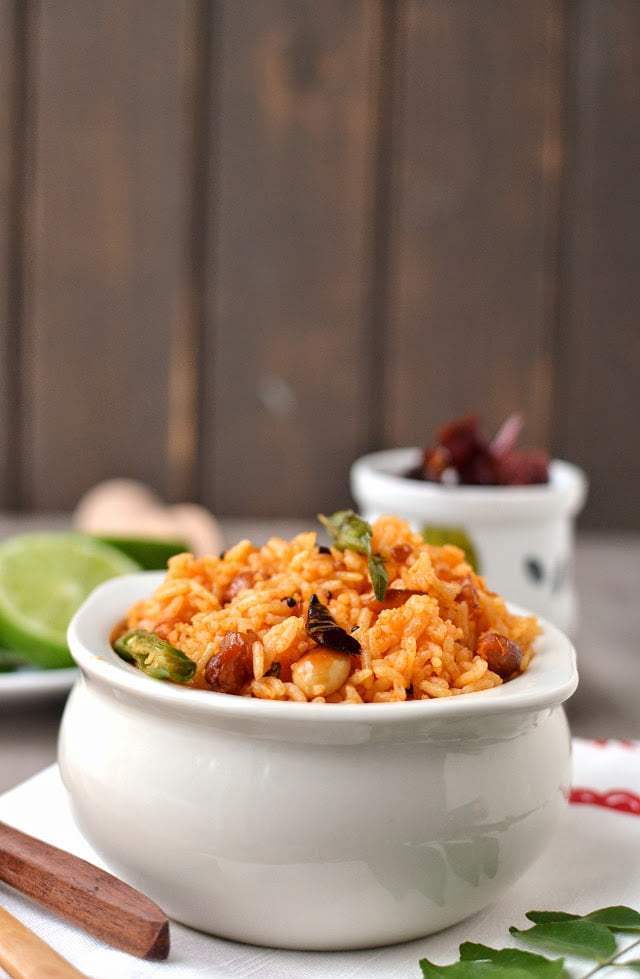 Tomato Pulihora
Recipe by Cook's Hideout
Visit website
---
---
Traditional South Indian Pulihora with a twist -- this one is cooked with tomato.
---
---
Ingredients
---
---
Method
Soak the rice in water for at least 20 minutes.
In a small bowl, whisk tomato paste in 3tbsp water to make a smooth mixture. If you are using fresh tomatoes, then grind them into a puree.
Heat 1tbsp oil in a heavy bottom pan or a pressure cooker, add tomato paste mixture (or fresh tomato puree) and cook on medium-low flame for 2~4 minutes.
Add turmeric, salt and 1½~1¾cups of water (adjust the water according to the rice you are using). Bring the water to a boil, lower the heat, cover and cook till the rice is tender, about 15~20 minutes. I simply cook for 2 whistles in the pressure cooker.
Let the rice cool for a little bit.
Heat 2tbsp oil in a pan, add chana dal, urad dal, peanuts, mustard seeds and dry red chilies. Once the seeds start to splutter and the seeds start to splutter, add hing and cook for 30 seconds.
Next add green chilies, ginger and curry leaves. Mix well and cook for 2 more minutes.
Pour this mixture into the tomato rice, mix gently to distribute the tempering evenly.
Finally stir in the lemon juice and let rest for at least 10~15 minutes for the flavors to mingle. Enjoy!!