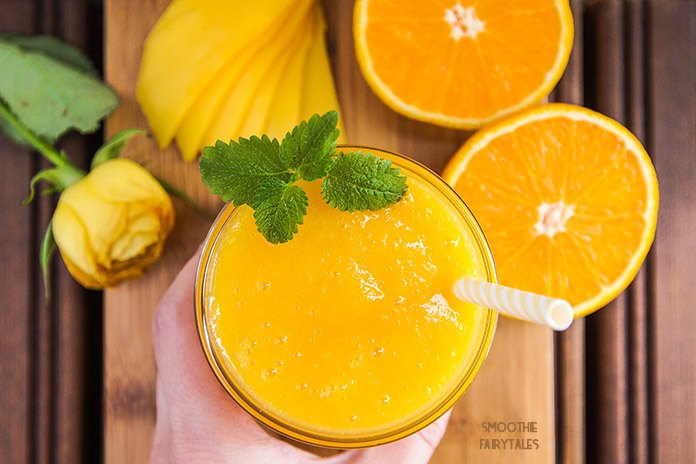 Tropical Mango Orange Smoothie
Recipe by Smoothie Fairytales
Visit website
---
---
Add some mango sunshine to your life with this tasty and refreshing, vitamin-packed mango smoothie. It is 100% fruit, simple to make & absolutely delicious!
---
---
Ingredients
1 banana

((fresh or frozen))

1 mango

2 oranges

½ cup pineapple chunks

((fresh or frozen))
---
---
Method
Cut the orange in two halves and squeeze juice out of them, using a hand juicer. Pour the orange juice into the blender jar. I personally love orange pulp and don't like throwing away any of the healthy dietary fibers, so I usually use the hand juicer with a strainer and then add the remaining pulp to the blender jar.
If you have more than one frozen ingredient, try to process them one after another, by adding first, for example, mangoes, processing them with some liquid, then adding bananas, processing them and so on. Scrape down the sides of the blender as needed and blend ingredients until they are fully combined.
Peel the mango and cut it roughly into chunks. Add the mango (fresh or frozen) to the blender.
Peel the banana, break it into chunks and add to the other ingredients in the blender jar. If you use frozen banana then you can add it directly to the other ingredients.
Add the pineapple chunks and process until smooth.
Pour your sunshine smoothie in serving glasses, decorate according to your taste and serve immediately or store in the refrigerator.