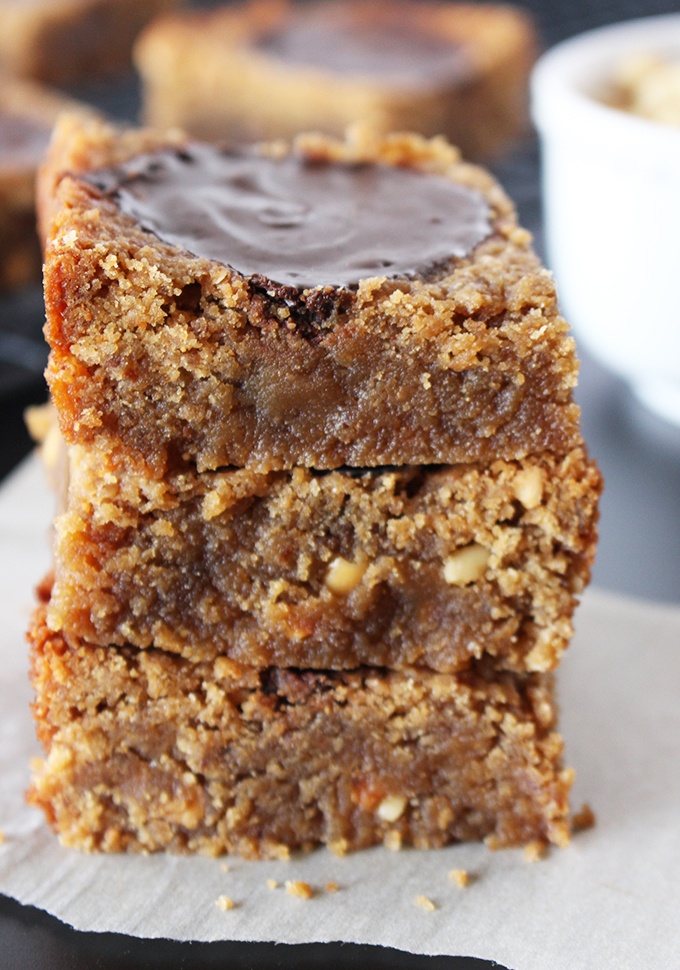 Vegan Peanut Butter Cup Peanut Butter Blondies
Recipe by Sweet Like Cocoa
Visit website
---
---
Amazingly delicious and decadent vegan peanut butter blondies with a homemade vegan peanut butter cup in the centre! These are the ultimate dream for all peanut butter lovers! Peanut butter and chocolate; perhaps one of the best flavour combinations ever, wouldn't you agree? Oh I've got a good one for you this week. I am so...Read More »
---
Servings
9 Peanut Butter Cup Peanut Butter Blondies
Courses
---
Ingredients
---
---
Method
Since they need time to set in the refrigerator, begin by making your peanut butter cups
Line a muffin pan with 12 muffin liners
In a medium bowl, combine the peanut butter (soften in microwave if too hard/solid) and powdered sugar and stir to fully combine
Melt the vegan chocolate chips and coconut oil either in the microwave or over a double boiler on the stove (if in microwave, melt in batches to avoid burning)
Add about 1 tsp of melted chocolate to the bottom of each muffin well, making sure that the chocolate spreads to the entire bottom
Add about 1/2 tbs of the peanut butter sugar mixture on top of the chocolate
Add another heaping 1ish tsp of melted chocolate on top of the peanut butter
Place the muffin tin in the fridge (or freezer if you're impatient like me) for at least 30 minutes before using (or eating!
To make the blondies:
Preheat oven to 350 F
Grease and/or line an 8x8 square pan with parchment paper
For the flax egg, combine ground flax and warm water in a small bowl and stir. Set aside to thicken
In a medium bowl, combine all dry ingredients (flour, baking powder and salt) and stir to combine
In a large bowl, combine the melted vegan butter and brown sugar and stir until incorporated
Add peanut butter to butter and sugar mixture (again, soften your PB in the microwave if your PB is too hard or solid) stirring to combine
Add in flax egg and stir again
Add the flour mixture to the wet ingredients slowly, and stir until just combined
Pour blondie batter into your prepared pan
Take 9 peanut butter cups out of the fridge and remove them from their liner
Place the 9 PB cups into the blondie batter in a 3x3 configuration
Bake in preheated oven for about 30 minutes (a toothpick inserted into the blondies should come out almost clean)
Allow to cool completely before cutting into 9 squares
Enjoy!