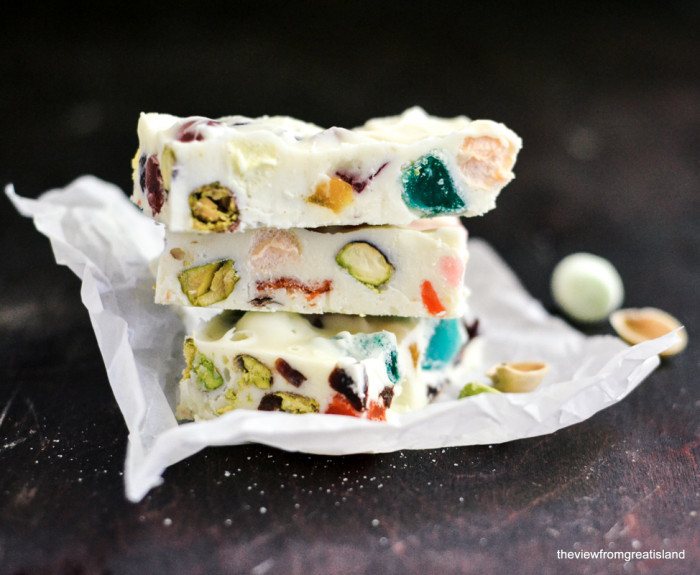 White Chocolate Rocky Road
Recipe by The View From the Great Island
Visit website
---
---
White Chocolate Rocky Road is fanciful combination of white chocolate, nuts, mini marshmallows, jellied candies and fruit.
---
---
Ingredients
1 lb good quality white chocolate (I used a combination of a 12 oz bag of Nestle's chips and a 4 oz Ghira

2 cups total of a combination of:

pistachios

(you can use almonds, macadamia, peanuts or walnuts as well)

dried cherries

dried Turkish style apricots

mini colored marshmallows

jelly candies

(like Turkish Delight, fruit gems, gummies, etc)
---
---
Method
Line a square 8x8 or 9x9 baking dish with parchment paper. Cut the paper big enough so the edges overhang the pan; this will allow you to lift the chocolate out of the pan after it has hardened, and make it much easier to slice neatly.
Gather your nuts and candy additions. Chop larger things like the apricots and the larger gummy candies. You can leave the cherries, pistachios and mini marshmallows whole.
Put the chocolate in a clean, dry microwave safe bowl. If you are using bar chocolate, break it up in small pieces so it will melt quickly and evenly.
Microwave the chocolate for 30 seconds. Remove and stir. Microwave for another 15 seconds. Remove and stir again. If the chocolate is not completely melted after stirring it for a moment, microwave it just a tiny bit more. The final small lumps of chocolate will melt as you stir.
Mix in your nuts, fruit, marshmallows, and jelly candies. Make sure to break up the sticky gummy candy as you add it so it doesn't clump together.
Spread the mixture in your baking pan and smooth out evenly. Let sit at room temperature for about 3 to 4 hours, until hardened. You can also refrigerate it, but let it sit out a bit before slicing so it will be easier to cut.
Lift the hardened candy out of the pan using the 'sling' of parchment paper. Slice your candy into small squares or bars with a sharp knife.