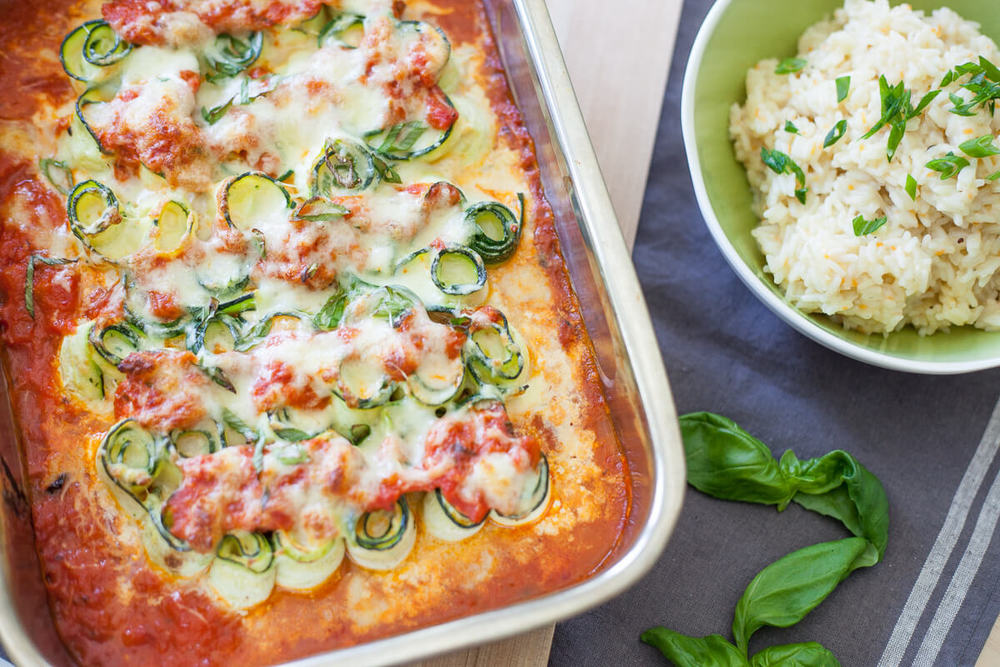 Zucchini Lasagna Rolls
Recipe by Vibrant Plates
Visit website
---
---
---
---
Ingredients
3-4 zucchini
2 tomatoe cans
1 onion
1 carrot
125g g mozzarella
100 g grated cheese
180 g sour cream
1 egg
fresh chives and basil
1 spring onion
salt, black pepper, paprika
1 ts sugar
olive oil
240 g Rice
---
Method
Wash and dry vegetables. Peel and dice onion. Grate carrot. Toss tomatoes out of the tin and into a bowl. If you're using whole tomatoes, mash them lightly with your hans intro smaller pieces. Wash and dry fresh herbs, then roughly chop them. Slice zucchini with a peeler into thing slices lenght-wise, then place each slice on a plate, sprinkle with olive oil, salt & pepper lightly.
Prepare tomato sauce. In a pan heat olive oil to medium, then add diced onions and stir-fry until translucent. Add grated carrots and stew until tender. Then, pour in tomatoes, add salt & pepper to tase, a teaspoon of sugar and a tablespoon of chopped basil leaves. Stir well and cook on low heath for about half an hour, stirring occasionally.
While the sauce is cooking, prepare your zucchini and cheese spread. Grill zucchini slices quickly in a grill pan until they tenderize. Then remove from heat and let them cool down. Beat an egg into a bowl, then add sour cream, a handful of chopped chives and chopped spring onion. Lastly, mix in your grated gauda cheese.
When the tomatoe sauce is done, remove from heat. At this point you can mix it roughly with a blender, so as to remove any larger tomatoe chunks. Spread a few ladles of sauce on the bottom of the baking pan.
Assemble your zucchini rolls: spread the cheese spread on a grilled zucchini slice, then gently roll it and place vertically on top of the tomatoe sauce in the baking pan. Repeat until all the zucchini slices are rolled up. Then pour a bit more tomatoe sauce on top of the zucchini rolls, sprinkle with chopped spring onions, grated mozzarella and a handful more of grated gauda cheese.
Bake at 190°C for about 15 minutes, or until the cheese turns golden brown. While the lasagna is baking, cook your rice according to package instructions.
When the zucchini lasagna rolls are baked, remove from oven, place on a dish, top with a few spoons of tomatoe sauce and add a portion of cooked rice. Serve hot.