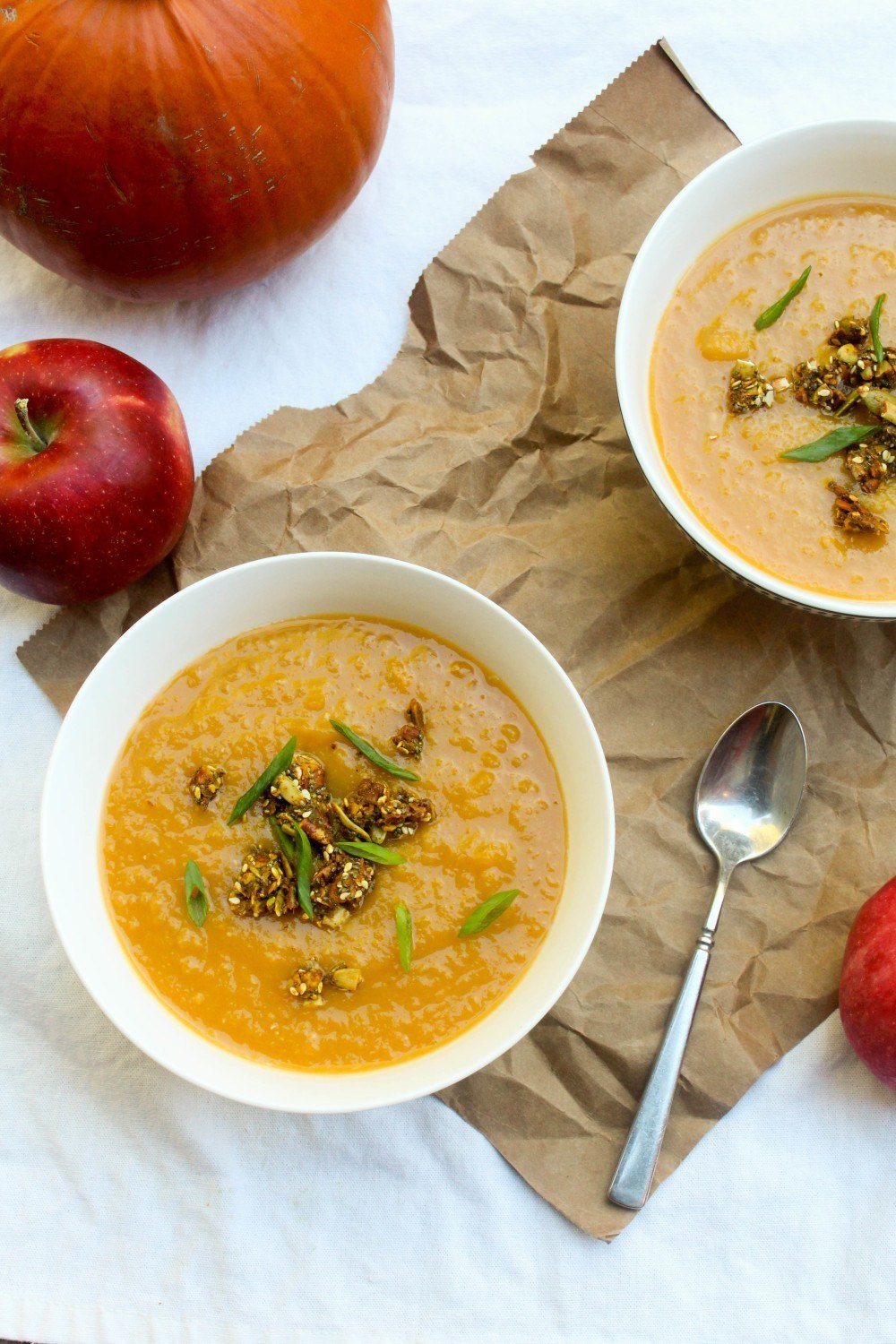 Butternut Apple Soup with Nutty Spiced Croutons
Recipe by Catching Seeds
Visit website
---
---
---
---
Ingredients
1 tablespoon olive oil
2 lbs yellow onions
1 tablespoon balsamic vinegar
1 small butternut squash
2 medium apple
2 cloves garlic
pinch cayenne
1 qt vegetable broth
2.5 cups water
salt
for the Sweet and Spicy Nut Clusters:
2 teaspoons mild curry powder
0.5 teaspoon cumin
0.25 teaspoon garlic powder
0.25 teaspoon cinnamon
0.25 teaspoon sea salt
0.125 teaspoon cardamom
pinch cayenne
1 tablespoon flax meal plus 2 tablespoons water
2 tablespoons honey
0.33333333333333 cup chopped pumpkin seeds
0.33333333333333 cup shopped pecans
1 tablespoon chia seeds
1 tablespoon sesame seeds
---
Method
For the soup:
Heat the tablespoon of olive oil in a large Dutch oven or soup pot over medium heat until warm. Add in the onions and the balsamic vinegar and cook, stirring occasionally until deeply caramelized, about 55 minutes. Remove the caramelized onions, and set aside.
Add in the butternut squash and cook until softened, about 7-10 minutes. Add in the apples and cook for another 5-7 minutes. Add back in the caramelized onions along with the garlic. Cook for 1-2 minutes. Add in the stock and water. Cover and cook for 15 minutes allowing the flavors to come together. Remove from the heat and allow the soup to cool.
Puree the soup with an immersion blender to desired consistency. Alternately, process the soup in batches in a food processor until smooth. Return the soup to the pot. Add in salt and cayenne pepper to taste. Return the soup to a simmer and adjust seasonings if needed. Serve with Sweet and Spicy Nut Clusters.
For the Sweet and Spicy Nut Clusters:
Preheat the oven to 250 degrees. Spray a small cookie sheet with nonstick cooking spray.
In a small bowl combine the flax seed meal and water. Allow the mixture to sit and thicken for about 5 minutes. Then add in the honey and stir to combine. Add in the curry powder, cumin, garlic powder, cinnamon, salt, cardamom, and cayenne and whisk to thoroughly combine. Add in the pumpkin seeds, pecans, sesame seeds, and chia seeds and stir so that all the nuts are coated with the wet ingredients.
Spread the mixture out on the prepared sheet tray and bake for 30 minutes. Stir the clusters and bake for another 30 minutes. Allow the clusters to cool before serving or storing.
✅ Vegan
✅ Vegetarian
✅ Gluten free