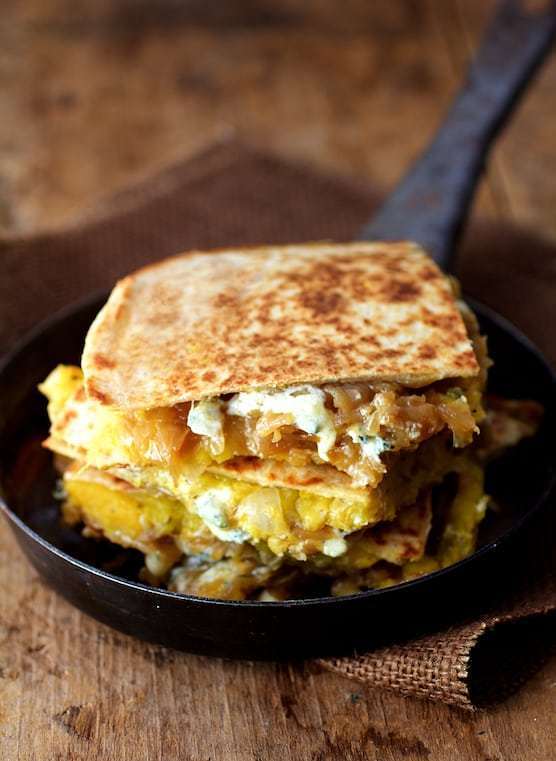 Butternut Squash, Caramelized Onion and Cambozola Quesadillas
Recipe by From a Chef's Kitchen
Visit website
---
---
Ring in fall with Butternut Squash, Caramelized Onion and Cambozola Quesadillas!
---
Servings
Cuisines
Courses
---
Ingredients
squash FILLING
1 medium butternut squash, peeled, seeded and cubed
1 medium onion, coarsely chopped
2 jalapeno peppers, sliced thick
10 cloves garlic
2 tablespoons olive oil
salt and freshly ground black pepper
onions
0.5 stick unsalted butter or ghee
0.25 cup olive oil
3 large onions, halved and thinly sliced
salt
quesadillas
4 (10-inch) whole wheat tortillas
1 small wedge Cambozola cheese (about 1/4 pound), rind removed
2 tablespoons olive oil
---
Method
SQUASH FILLING
Preheat oven to 400 degrees. Toss butternut squash cubes, onion, jalapeno peppers and garlic with olive oil. Roast for 25 to 30 minutes or until squash and onions are tender. Transfer to a bowl and mash with a potato masher. Set aside.
ONIONS
Heat butter and olive oil over medium-high in a large skillet or saute pan. Add the onions, cover, reduce heat to medium and cook 30 minutes, stirring occasionally. (With the cover on, the onions will get very soupy and wet.)
Remove the cover, add salt to taste and continue cooking, stirring frequently for at least another 30 minutes or until the onions become golden to light brown in color. (It's important for the onions to "stick" a little bit here and there without burning as this helps them caramelize.) Transfer to a sieve for the excess fat to drain off.
QUESADILLAS
Spread equal amounts of the butternut squash filling on two of the four tortillas. Top with equal amounts of the caramelized onions, followed by evenly distributed bits of the Cambozola. Place remaining tortillas over the filling, pressing slightly to adhere. Alternately, place equal amounts on one half of each tortilla, folding the other half over creating four half-moon shapes.
Heat oil over medium-high heat in a non-stick skillet or griddle. Brown the filled tortillas 3 to 4 minutes per side.