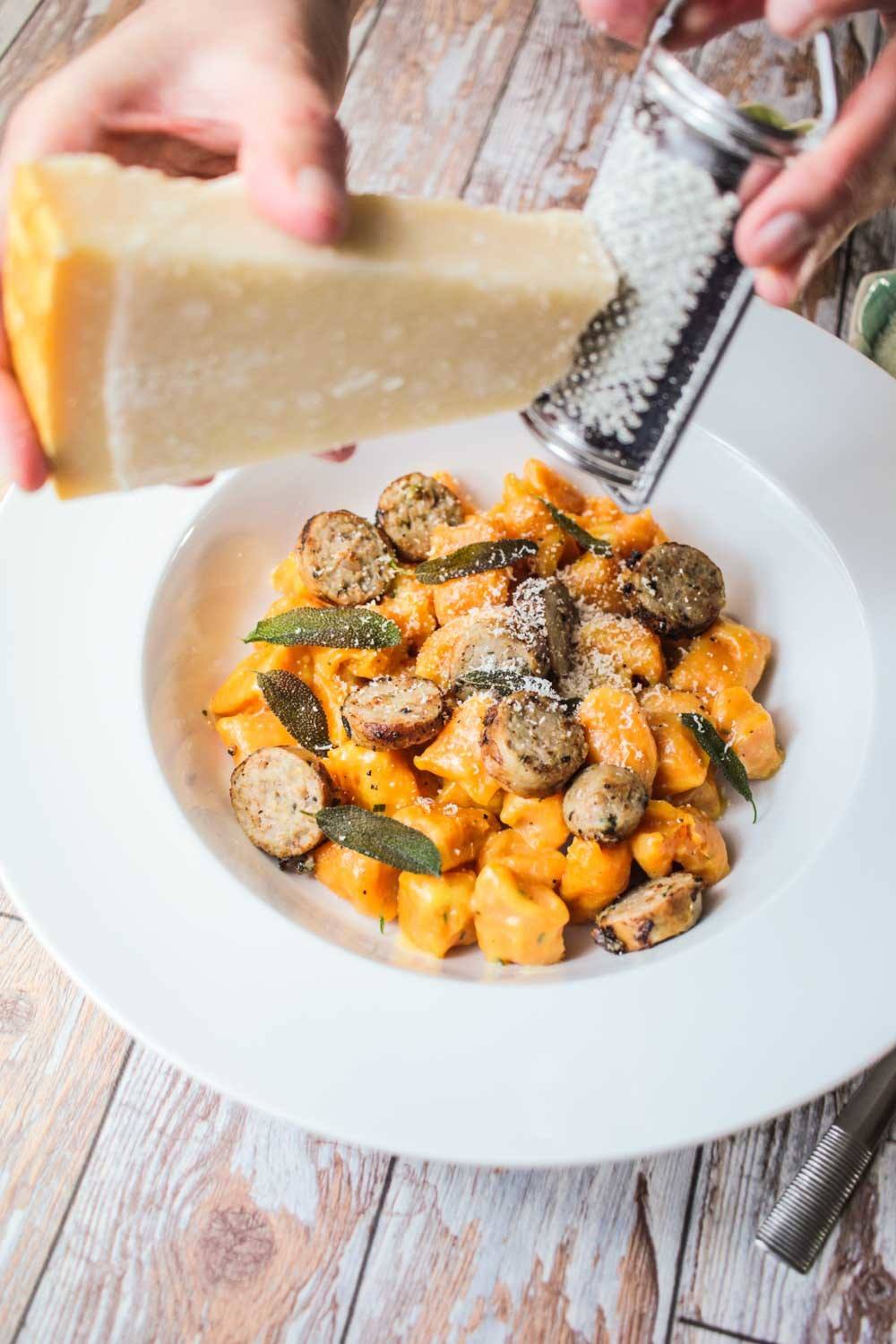 Buttery Sweet Potato Gnocchi with Sausage
Recipe by Globe Scoffers
Visit website
---
---
---
---
Ingredients
4 medium sweet potatoes
160 g plain flour
1 splash semi skimmed milk
0.25 tsp salt
2 tbsp grated Parmesan
0.5 tbsp chives
black pepper
1 tsp butter
0.5 tsp garlic paste
200 ml chicken stock
2-3 tbsp low fat crème fraîche
salt and black pepper
4 herby sausages
10 fresh sage leaves
---
Method
Preheat the oven to 180°C / 160°C fan / 350°F / gas 4.
Prick your sweet potato with a sharp knife and put them in the oven for about 30 minutes or until soft.
Once your sweet potato are cooked leave them to cool for 5-10 minutes until they are ok to handle. With a spoon scrape the filling into a bowl.
Add a splash of milk to your potato and mash until smooth.
Add the salt, parmesan and chives then mix into the sweet potato mash. Season with black pepper.
Sift the flour into your mixture, using a fork gather the mixture together forming a dough. Using your hands form a dough ball.
Cut your dough ball into quarters and then each quarter in half again.
Dust your work surface with flour then roll into a long sausage about an inch thick. Cut up using a sharp knife into inch size pieces.
Place the gnocchi pieces on a sheet of baking paper dusted with flour so that they don't stick.
Add a little bit of oil to a frying pan on a medium heat. Add the sage leaves, they will crisp up in no time. Take them out place them onto a piece of kitchen roll, this will soak the excess oil.
Cook your sausages in a pan then slice them into rings.
Now for the sauce. Add the butter to a frying pan and once it has melted add the garlic, then give it a good stir, cook for one minute.
Add the stock and bring to the simmer, then add the crème fraîche and keep stirring. Season with black pepper and bring to the boil. Turn down and simmer.
Bring a large pan of water to the boil and add your gnocchi, when they rise to the top they are ready. This should take about 3-4 minutes. Spoon them into your buttery sauce and give a good stir but be gentle. Add the sausage.
Serve into pasta bowls and sprinkle with crispy sage leaves. Enjoy!