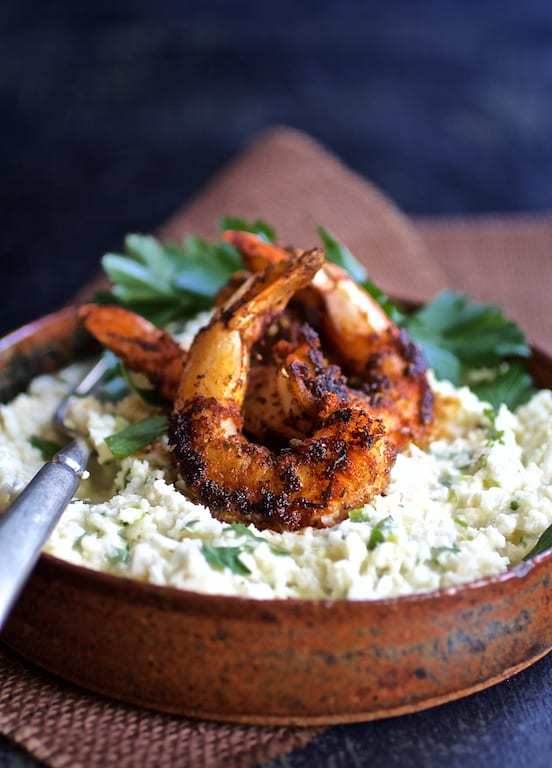 Cauliflower Grits with Gouda Cheese and Blackened Shrimp
Recipe by From a Chef's Kitchen
Visit website
---
---
Shrimp and grits get a low-carb update in Cauliflower Grits with Gouda Cheese and Blackened Shrimp.
---
---
Ingredients
blackening MIX
2 tablespoons smoked paprika
1 tablespoon sweet paprika
1 tablespoon garlic powder
1 tablespoon onion powder
1 tablespoon freshly ground black pepper
1.5 teaspoons dry mustard
1.5 teaspoons dried thyme
1.5 teaspoons dried oregano
1 teaspoon cayenne pepper, or to taste
1 teaspoon salt
cauliflower GRITS
1 large head cauliflower
2 tablespoons unsalted butter
1 bunch scallions
1 cup chicken broth
4 ounces reduced-fat cream cheese
4 ounces Gouda cheese
salt and freshly ground black pepper
0.25 cup fresh parsley
3 tablespoons olive oil
1 pound jumbo shrimp
---
Method
BLACKENING MIX: Combine spice mixture in a small bowl. Set aside.
CAULIFLOWER GRITS: Process the head of cauliflower through the Oxo Good Grips Spiralizer as shown, then finely chop if necessary. Set aside.
Heat butter in a shallow saucepan over medium-high heat. Add scallions, reduce heat to medium and cook 1-2 minutes to soften.
Add chicken broth and bring to a boil. Whisk in cream cheese, stirring constantly until cream cheese is incorporated into the broth.
Add the cauliflower and cook 2-3 minutes, stirring often. (I like them a little less cooked--you may like them cooked more.) Add the Gouda cheese, continuing to stir until the cheese has melted and cauliflower is a creamy consistency. Season to taste with salt and black pepper. Stir in parsley and keep warm.
SHRIMP: Generously coat the shrimp with the blackening mix. Heat olive oil in a cast iron or nonstick pan over medium high heat. Add the shrimp and cook 1-2 minutes per side or until firm, being careful not to overcook. Serve grits topped with shrimp.