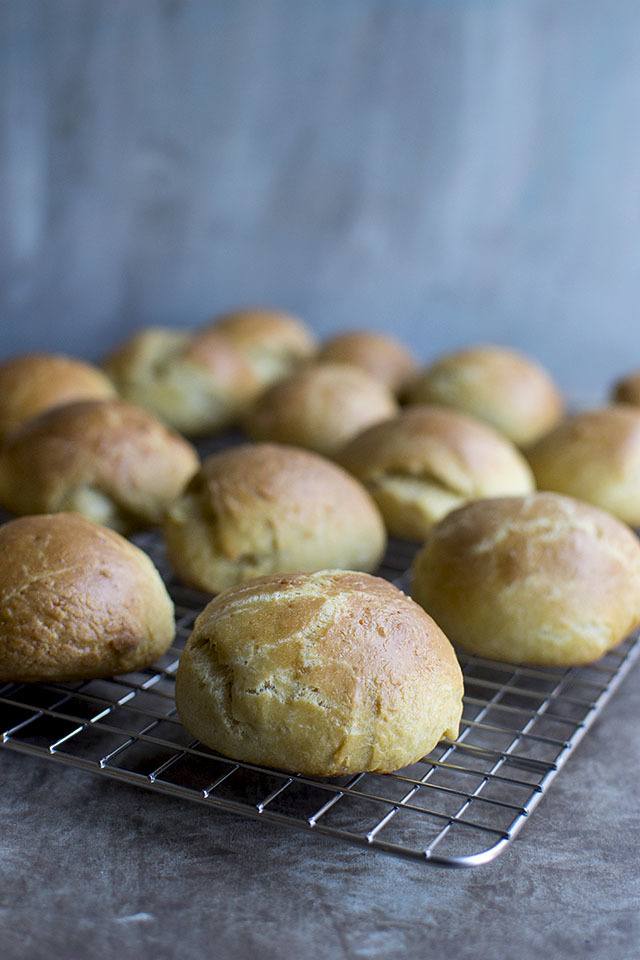 Cheese Brioche Buns
Recipe by Cook's Hideout
Visit website
---
---
---
---
Ingredients
6 oz sharp cheddar cheese
2 cups all purpose flour
0.75 cup Wholewheat Flour
1 tbsp instant yeast
0.25 cup Nonfat Dry Milk
1¼ tsp salt
3 large Eggs + 1 large Egg yolk, white reserved for wash
0.25 cup Lukewarm Water
0.5 cup (8tbsp) Unsalted Butter
1 large egg white
1 tbsp cold water
---
Method
Cut the cheese into chunks. Place the flour and cheese into the food processor, process until the cheese is finely ground and no big pieces remain.
In the bowl of a stand mixer, combine the flour and cheese mixture with the remaining ingredients, mix and knead until a smooth dough forms. This will take quite a bit of time, about 20 minutes, so be patient.
Form the dough into a ball, place it in a greased bowl and let rise for 1 hour.
Refrigerate the dough covered overnight. This will help in shaping the buns.
Next day, take the dough out of the fridge about 1 hour before you want to shape the buns.
Divide the dough into 10 large buns or 20 smallish buns.
Shape each piece into a ball. The dough is more like play-doh and less like dough. Place the balls onto a parchment lined baking sheet, leaving space between them. Flatten them out by using a measuring cup or other flat surface.
Cover the buns and let them rise until they are very puffy. This might take about 3~4 hours, depending on how warm your house is.
Preheat the oven to 350°F.
Whisk the egg white with the water until foamy. Brush the buns with the egg wash.
Bake the buns for 25~30 minutes. Tent the buns loosely with foil if they start to brown too quickly. The buns have to be golden brown and if a instant read thermometer inserted into the center reads about 190°F.
Remove the buns from the oven, cool them on a rack.