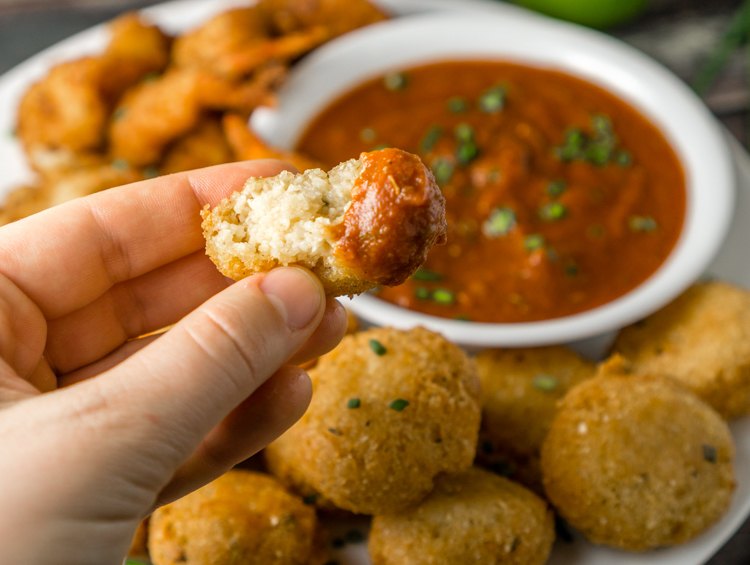 Cheesy Grits Fritters
Recipe by Babaganosh
Visit website
---
---
---
---
Ingredients
1.5 cups quick cooking grits
3 cups water
1 teaspoon Cajun spice
2 tablespoons chopped chives
4 oz shredded cheddar cheese
vegetable oil for frying
1 cup Marinara Sauce
1 teaspoon Cajun spice
1 teaspoon lime juice
optional garnish: chopped chives
---
Method
In a medium saucepan, mix together the grits, water, and 1 teaspoon Cajun spice. Cook for 5 minutes, stirring constantly. The mixture will be much thicker than typical grits that you would eat for breakfast.
Stir in shredded cheese and chives and mix well. Allow to cool for about 1 hour, or until the grits are cool enough to handle with your hands. Colder grits will be easier to form into fritters, warmer grits will stick to your hands.
Preheat vegetable oil for frying in a small pan or sauce pan - there should be 1-2 inches of oil.
Using your hands, form the fritters: Take about 3 tablespoons of the grits mixture, roll it into a smooth ball, and flatten it slightly.
Fry the fritters for 3-4 minutes, or until they are golden brown. If the oil does not cover the fritters completely, use long metal tongs to flip them carefully (so the oil does not splatter!) and fry for another 3 minutes. Fry several at a time, but do not crowd them in the pan. Remove from oil when golden brown and drain on a paper towel to absorb the extra oil.
Prepare the Cajun marinara sauce by mixing together the marinara sauce, Cajun spice, lime juice, and chopped chives.
Serve the Cheesy Grits Fritters fresh with Cajun Marinara Sauce.