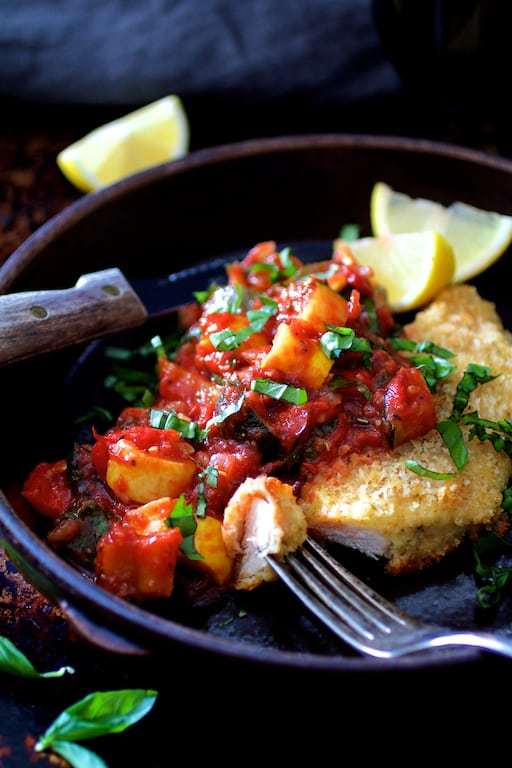 Chicken Scallopini with Roasted Vegetable Ratatouille
Recipe by From a Chef's Kitchen
Visit website
---
---
Chicken Scallopini with Roasted Vegetable Ratatouille is a twist on Italian Chicken Parmigiana and classic French Ratatouille!
---
---
Ingredients
ratatouille
1 red bell pepper
1 yellow bell pepper
1 orange bell pepper
2 medium zucchini
2 medium yellow squash
5 tablespoons olive oil
salt and freshly ground black pepper
0.5 medium red onion
4 cloves garlic
1 large tomato
0.5 cup dry white wine
1 can (15-ounce) crushed tomatoes
1 teaspoon herbes de Provence
1 large sprig fresh basil
chicken
cooking spray
0.5 cup all-purpose flour
salt and freshly ground black pepper
2 eggs
0.5 cup Italian-style breadcrumbs
0.5 cup panko
1 cup freshly grated Parmesan cheese
4 chicken breasts
thinly sliced fresh basil for garnish
lemon wedges
---
Method
RATATOUILLE
Preheat oven to 400 degrees. Arrange vegetables on a non-stick baking sheet (or line with non-stick aluminum foil), drizzle with 3 tablespoons olive oil and season to taste with salt and black pepper.
Roast for 15-20 minutes or until softened and lightly browned.
Meanwhile, place remaining 2 tablespoons olive oil in a deep skillet and heat over medium-high heat. Add the onion, reduce heat to medium-low and cook 6-7 minutes or until beginning to soften. Add the garlic and tomato and cook 3-4 more minutes or until the tomato is very soft.
Add the white wine. Bring to a boil, then reduce heat and add the crushed tomatoes and herbes de Provence. Simmer uncovered 5-10 minutes. Add roasted vegetables and fresh basil and keep warm.
CHICKEN
Reduce oven temperature to 375 degrees.
Prepare a nonstick baking sheet by spraying with cooking spray or lining with nonstick foil and spraying with cooking spray.
Combine flour, salt and black pepper in a large zipper-top bag. Place eggs in a bowl. Combine breadcrumbs, panko and Parmesan cheese in another bowl.
Place chicken cutlets in the zipper top bag and coat well with the flour.
One by one, dip in the egg, then the breadcrumbs and place on the prepared baking sheet. Spray with cooking spray.
Bake 15-18 minutes or until lightly golden and a thermometer inserted registers 165 degrees.
Serve ratatouille with chicken. Garnish with fresh basil and serve with lemon wedges.