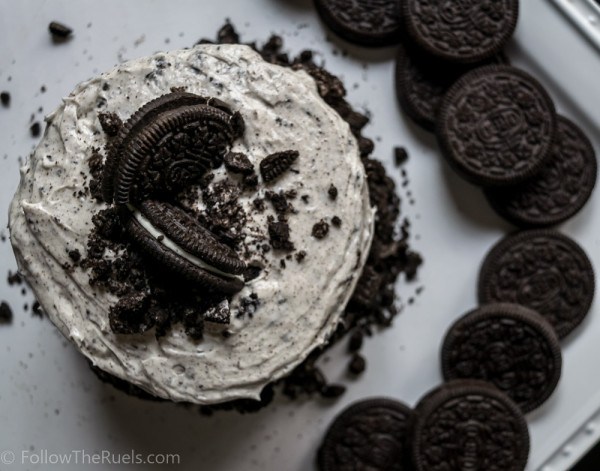 Cookies and Cream Cake
Recipe by The Honey Blonde
Visit website
---
---
Chocolate cake filled with delicious cookies and cream icing.
---
---
Ingredients
1 cup butter

(softened)

2½ cup sugar

4 eggs

((beaten))

1 cup milk

(pref. whole milk)

1 cup water

1 cup cocoa

1 tbsp espresso powder*

1 tsp vanilla

2¾ cup flour

2 tsp baking soda

½ tsp baking powder

1 tsp salt

icing

1 package (8 oz) cream cheese

(softened)

1 cup butter

(softened)

1 cup powdered sugar

1 tsp vanilla

8 oreo cookies, crushed, plus extra
---
---
Method
Preheat oven to 350 degrees. In the bowl of a stand mixer, cream together butter and sugar until light and fluffy. Mix in eggs one at a time. Scrape down sides. In a small microwave-safe bowl or liquid measuring cup, mix together water and milk and heat in a microwave for 30 seconds to a minute. Whisk in cocoa, espresso powder, and vanilla. Set aside. In a large bowl, whisk together flour, baking soda, baking powder, and salt. Alternately, mix in the 1/3 flour mixture, followed by 1/2 the cocoa mixture into the butter mixture. Mixing dry, wet, dry, wet, dry. Mix until completely mixed. Pour batter into 2 prepared 9" cake pans. Bake for 30-40 minutes, until toothpick comes out clean. While cake cooks, prepare icing. Cream together cream cheese, butter, sugar, and vanilla. Spoon 1/2 a cup of the icing into a separate bowl. With the remaining icing, fold in crushed cookies. Set aside. Once cake is cooked, cooled, and chilled, level the cake and cut each cake into two layers (if 4 layers are desired). Place bottom layer on a plate or cake board. Spread a small portion of icing on the cake. Top with another layer and repeat. After all layers are in place, apply a thin crumb coat using the icing without crushed cookies. Place back in fridge to chill for at least 30 minutes. After cake is chilled, apply remaining icing on the top of the cake and spread out, working out and down the sides until the cake is covered. With any extra crushed cookies, press into the side of the cake.