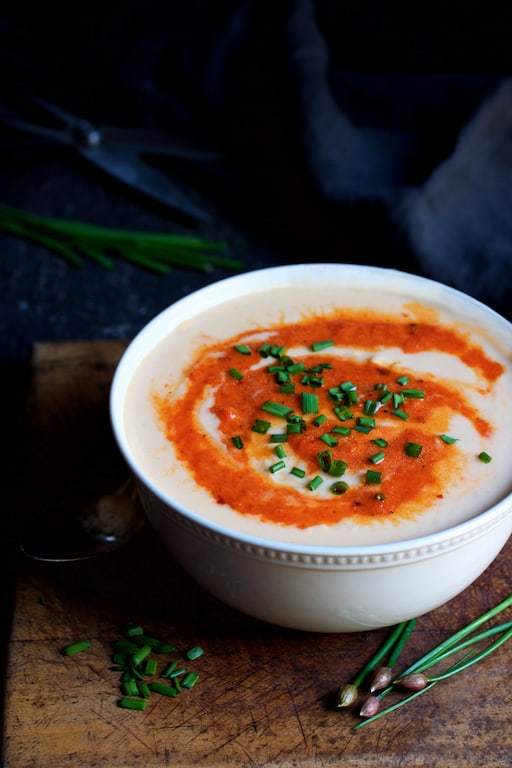 Creamy Cauliflower Soup with Gouda Cheese and Roasted Red Pepper Puree
Recipe by From a Chef's Kitchen
Visit website
---
---
Creamy Cauliflower Soup with Gouda Cheese and Roasted Red Pepper Puree
---
Servings
Cuisines
Courses
---
Ingredients
soup
2 tablespoons canola oil
2 tablespoons butter
1 medium onion, coarsely chopped
2 medium carrots, coarsely chopped
2 stalks celery, coarsely chopped
4 cloves garlic, coarsely chopped
1 large Russet potato, peeled and cubed
5-6 cups chicken broth
1 large head cauliflower
2 cups shredded Gouda cheese
1 cup half-and-half
salt
cayenne pepper
red PEPPER PUREE
1 (12-ounce) jar roasted red bell peppers
2 tablespoons extra virgin olive oil
2 cloves garlic
0.5 teaspoon crushed red pepper flakes
salt and freshly ground black pepper
---
Method
SOUP
Heat canola oil and butter over medium-high heat. Add the onion, carrots and celery. Reduce heat to medium-low and cook, stirring often until vegetables begin to soften, approximately 7-8 minutes.
Add the potato and cook briefly (30 seconds), just so it absorbs some of the aromatics. Add 5 cups chicken broth and the cauliflower. Bring to a boil, reduce heat, cover slightly and cook until everything is very tender.
Stir in the cheese and half-and-half and stir until the cheese melts. Carefully transfer to a food processor or blender to puree, or use an immersion blender to do that right on the stovetop. If the soup is too thick, add a bit more chicken broth. Season to taste with salt and cayenne pepper to taste.
RED PEPPER PUREE
Combine ingredients in a mini food processor or blender. Process until smooth.
Swirl into the soup and serve!