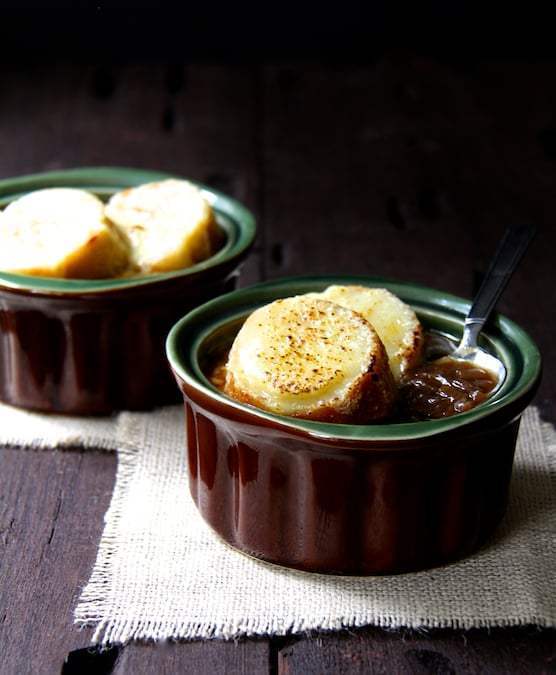 French Onion Soup
Recipe by From a Chef's Kitchen
Visit website
---
---
French Onion Soup is a classic that is always in season!
---
Servings
Cuisines
Courses
---
Ingredients
1 tablespoon olive oil
4 tablespoons unsalted butter
2 large yellow onions (about 2 pounds), halved and thinly sliced
0.5 teaspoon salt
1 bay leaf
2 sprigs fresh thyme
4 cloves garlic
1 tablespoon all-purpose flour
0.5 cup dry red wine
4 cups low-sodium beef broth or stock
1 to 2 tablespoons dry white wine or dry sherry
freshly ground black pepper
1 small sourdough baguette, sliced into 4 thick pieces, ends discarded
0.25 pound grated Gruyere cheese
---
Method
Heat a Dutch oven or other heavy pan over medium-high heat. Add the olive oil and butter; when the butter has melted, add the onions, stirring to coat with the fat. Reduce heat to medium, cover and cook about 10 minutes to soften them and to help bring out some of the moisture, stirring several times.
Add the salt, bay leaf and fresh thyme. Leave uncovered, reduce heat to medium-low and continue cooking, stirring often so the onions brown evenly until the onions are a rich brown color, about 35 to 45 minutes more. Add the garlic and cook 1 minute. Discard bay leaf and thyme sprigs.
Add the wine, bring to a boil and cook until almost evaporated. Stir in the flour and cook 2 to 3 minutes.
Add the beef broth, bring to a boil, reduce heat and simmer until reduced slightly, about 5 minutes. Adjust seasoning with salt and black pepper. Add the white wine or sherry. Keep warm.
Preheat broiler. Arrange the baguette slices on a baking sheet in a single layer. Top the bread with cheese. Broil until melted and beginning to brown, 3 to 5 minutes.
To serve, ladle into bowls and top with cheesy croutons. Alternately, toast the bread at 325 degrees for 15 to 20 minutes, turning once. Place the croutons over the soup, sprinkle with cheese and bake at 350 degrees for 20 to 25 minutes or until the cheese is melted and bubbly, then broil briefly to brown the cheese. Serve immediately.