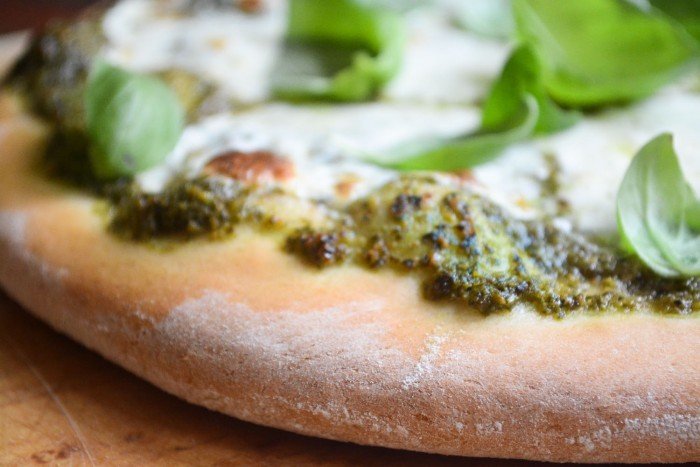 Homemade Pizza in less than an hour!
Recipe by The View From the Great Island
Visit website
---
---
Homemade Pizza in less than an hour ~ and that's completely from scratch ~ from flour and water to hot pillowy cheesy pizza in under 60 minutes!
---
Servings
makes 2 pizzas, serves 4
Courses
---
Ingredients
dough

1 lb all purpose flour

(about 3 1/2 cups, but I recommend weighing your flour for accuracy)

1 tsp salt

1 packet yeast, (1/4 oz) use fast rising pizza yeast if you can find it.

1 tsp sugar

1 tbsp olive oil

topping

approximately 1/2 cup fresh pesto or pizza sauce

1 ball mozzarella cheese

(thinly sliced)

fresh basil leaves
---
---
Method
Set your oven to 500 degrees. Set the rack on the lowest setting.
Measure out a cup of warm tap water and stir in the sugar, the oil, and the yeast. Let sit for a few minutes.
Put the flour and salt in the bowl of a stand mixer fitted with the dough hook. Give the flour and salt a quick mix to combine.
Turn the mixer on low. Pour the liquid into the bowl as the hook turns. The dough will slowly come together in a couple of minutes. If it seems very dry add in a little more warm water. a few drops at a time until the dough is one mass. Let the mixer knead the dough, on low, for about 8 minutes. The dough should be soft and elastic.
Put the dough on a floured surface and rub the top with more flour. Cover in plastic and let sit for 15 minutes.
Divide the dough in two and shape each half into a round ball. Roll out on a floured surface to your desired size. You can roll the dough thickly or thinly depending on your preference.
Place the dough on a lined baking sheet, I use a Silpat mat. Spread a light layer of your topping sauce, and then arrange thin slices of cheese on top. Don't be tempted to use too much sauce, and don't spread the sauce all the way to the edge, leave an inch or so border.
Bake for about 8-10 minutes until the crust is golden and the topping is bubbling.
Scatter fresh basil leaves over the top just before serving and eat immediately!