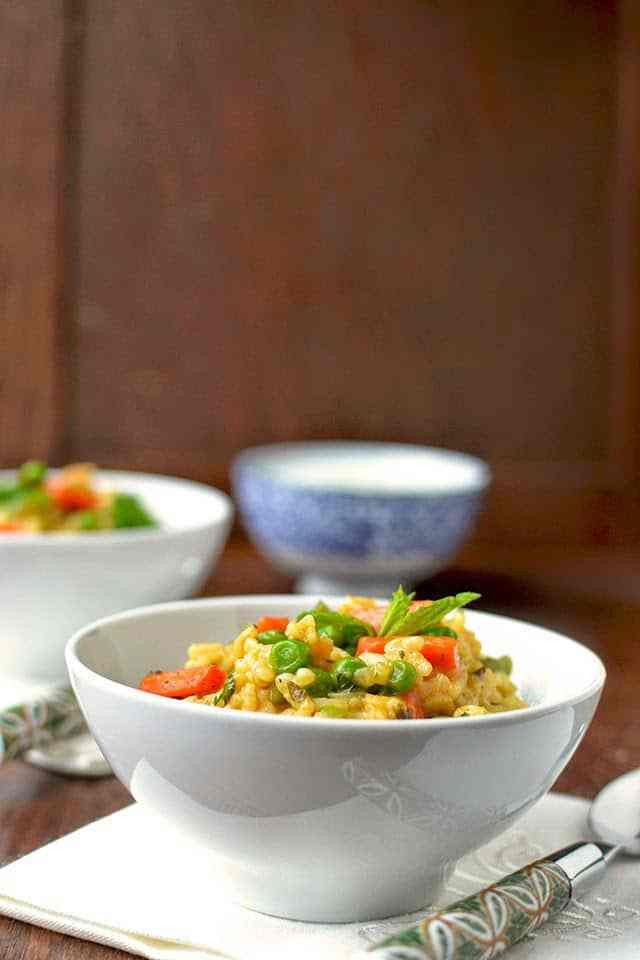 Indian Flavored Risotto
Recipe by Cook's Hideout
Visit website
---
---
---
---
Ingredients
1 cup arborio rice

((substitute with basmati , if you can't find the more traditional arborio ))

1 onion

(- small, finely chopped)

15 oz. can black beans

(", - finely grated)

2 cloves garlic

(- , finely chopped)

1 carrot

(- medium, peeled and diced)

15 oz. can black beans

(, chopped)

15 oz. can black beans

3 tbsps mint

(, finely chopped)

2 tbsps cilantro

(, finely chopped)

1 tsp paprika

((adjust as per taste preference))

15 oz. can black beans

((adjust as per taste preference))

to taste Salt
---
---
Method
Heat 2tbsp oil (or vegan butter) in a pressure cooker or a heavy bottom pan. Add the onions, ginger and garlic. Saute till the onions are translucent, about 2~3 minutes.
Next add carrots and green beans. Cook covered for 2~3 minutes. Add chopped mint, salt, paprika, curry powder and mix well.
Stir in the rice and saute for 3~4 minutes till the rice is toasted. Next add 2½cups of vegetable stock or water, close the lid and cook for 2 whistles or 7~8 minutes. Turn off the stove and wait for the pressure to release naturally.
To cook in the traditional method, keep 3~4 cups of veggie stock/ water ready. Add a ladle full of liquid to the veggie & rice mixture and cook till the water evaporates. Add another ladle full of liquid and continue cooking. Repeat till the rice is tender and cooked through, this takes about 18~20 minutes.
Finally add the chopped herbs, mix and serve hot!!