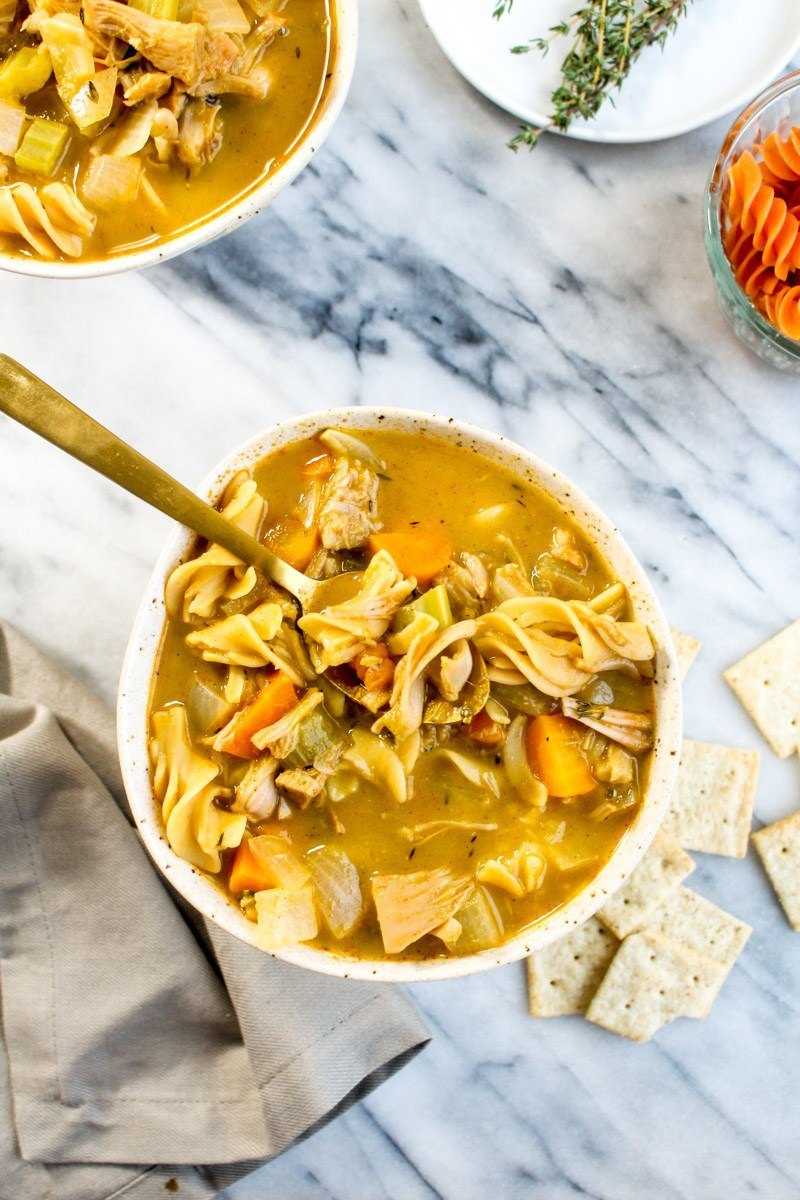 Jackfruit Chicken Noodle Soup
Recipe by Catching Seeds
Visit website
---
---
---
---
Ingredients
2 cans of jackfruit in brine
1 tablespoon avocado oil
1 tablespoon honey
2 teaspoons ground poultry seasoning
1.5 teaspoons onion powder
1.5 teaspoons salt
1 teaspoon garlic powder
0.75 teaspoon smoked paprika
1 tablespoon avocado oil
1 large onion
1 cup chopped celery
1 cup chopped carrots
3 cloves garlic
1 tablespoon minced fresh thyme leaves
2 bay leaves
0.5 teaspoon white pepper
8 cups low sodium vegetable broth
2 tablespoons liquid aminos
2 cups pasta of choice
---
Method
Preheat the oven to 350 degrees. Line a baking tray with parchment paper and set aside.
Take the drained jackfruit and use your hands to break the chunks up into shreds that resemble rotisserie chicken. Spread the shredded jackfruit out on a clean kitchen towel. Place another towel on top of the jackfruit and pat the jackfruit dry. They dryer, the better.
Place the jackfruit into a bowl and add in the remaining ingredients. Toss well to coat all of the jackfruit with the seasonings and spread it out on the prepared baking tray. Bake for 20 minutes and set aside.
While the jackfruit is baking, heat the avocado oil for the soup in a large Dutch oven or soup pot over medium high heat. Add in the onion, celery, and carrots and sauté until the onion is translucent and the veggies have softened, about 7-10 minutes. Add in the garlic, thyme, bay leaves and white pepper. Sautee for another minutes.
Add in the broth, and bring it up to a simmer. Add in the jackfruit when ready and simmer, covered, for 10 minutes. Add in the pasta and turn off the heat. Cover and let the residual heat cook the noodles. This process should take 10-15 minutes and will keep the noodles from getting soggy. Once the noodles are al dente, remove from the heat and serve.