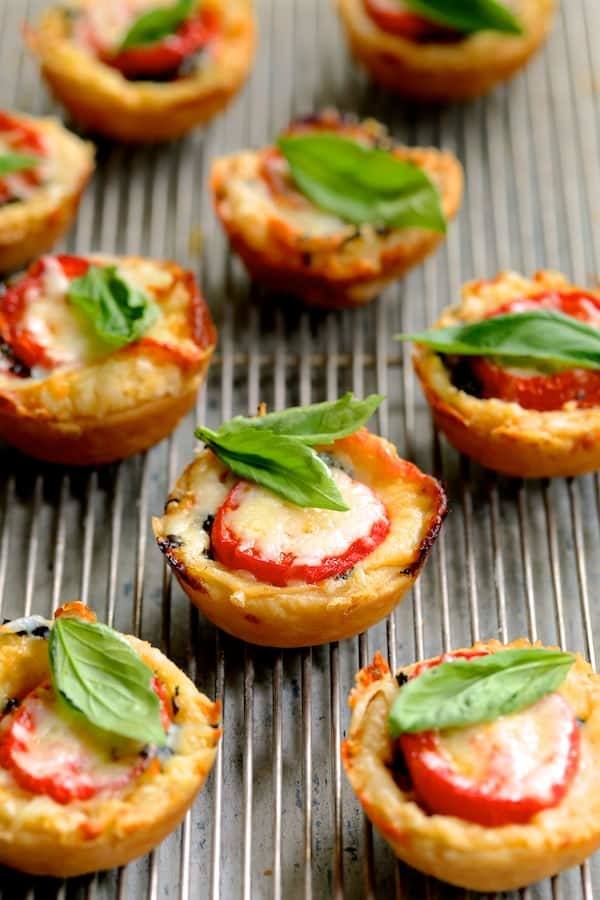 Mini Southern Tomato Pies
Recipe by From a Chef's Kitchen
Visit website
---
---
Mini Southern Tomatoes Pies are an elegant twist on the downhome and iconic Southern Tomato Pie for a lovely summer appetizer!
---
---
Ingredients
4 medium plum tomatoes

2 teaspoons salt

1 package (17.3-ounce) frozen puff pastry sheets

(thawed)

1¼ cups grated Gruyere or white Cheddar cheese

(divided)

½ cup shredded Monterey Jack or Mozzarella cheese

(divided)

¼ cup mayonnaise

½ teaspoon freshly ground black pepper

½ cup  finely chopped fresh basil

fresh basil leaves for garnish
---
---
Method
Preheat oven to 375 degrees.
Slice the tomatoes into approximately 8 slices each so you end up with 32 slices. Place the tomatoes on paper towels and sprinkle with 1 teaspoon salt. Let stand 15 minutes. Flip onto dry paper towels and salt again. Let stand for another 15 minutes. Dry the top side of the tomatoes with paper towels for any remaining moisture.
While tomatoes are draining, prepare the pastry. Roll out onto a lightly floured surface. Using a 3 to 3 1/2-inch biscuit cutter or round stainless measuring cup, cut 8 circles from each sheet of pastry.
Place the pastry circles into two nonstick muffin pans. (Don't worry about getting them tucked into the pans too securely. Just make sure they have a flat bottom so they stand level.)
Cover with clean kitchen towels and refrigerate until needed.
Combine 3/4 cup Gruyere cheese and 1/4 cup Mozzarella cheese in a bowl. Add mayonnaise and black pepper and stir well.
Divide cheese and mayonnaise mixture evenly among the 16 pastry shells. Top each with a tomato slice.
Using only about 1/4 cup of the Gruyere, sprinkle each tomato slice with a small amount of cheese. Top with the chopped basil.
Place the second tomato half over the cheese and basil. Place in the oven and bake for 30 minutes.
Combine the remaining 1/4 cup Gruyere cheese and 1/4 cup Mozzarella cheese.
Remove from the oven and adjust the tomato slices as necessary so they're back up on top of each other. Top with remaining cheese and place back in the oven for 5 minutes or until cheese is melted.
Serve immediately or at room temperature.