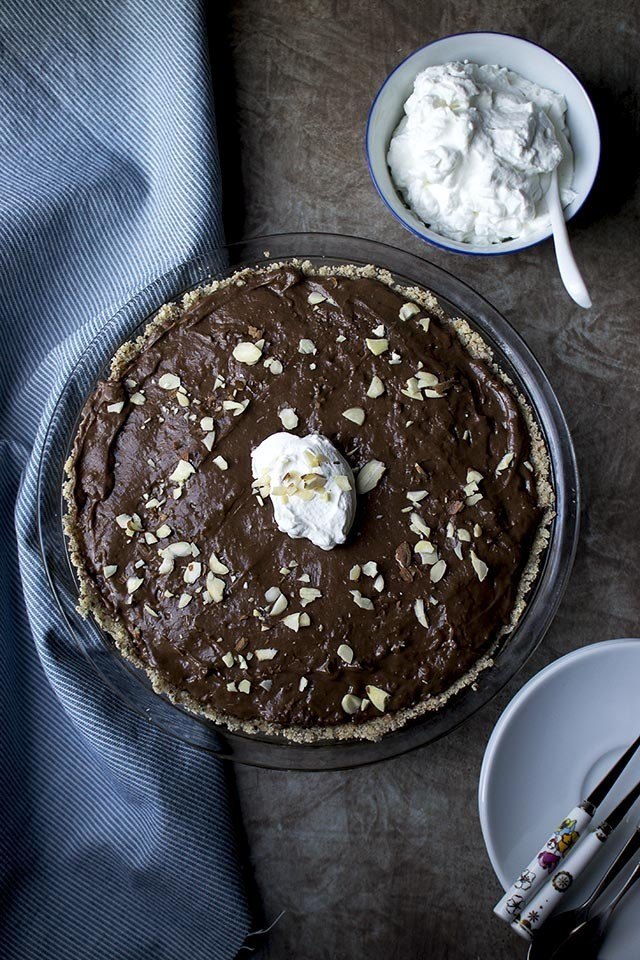 Mocha Cream Pie
Recipe by Cook's Hideout
Visit website
---
---
---
---
Ingredients
1 cup Almond Meal aka Almond flour
1 cup Hazelnut Meal aka Hazelnut flour
2 tbsp sugar
0.25 tsp salt
5 tbsp unsalted butter
0.75 cup sugar
1 tbsp cocoa powder
1 tbsp espresso powder
0.25 cup cornstarch
1 tbsp all purpose flour
0.25 tsp salt
2½ cups Milk (dairy or non-dairy), Half-n-half or Lite Coconut milk*
1 tsp vanilla extract
4 egg yolks
2 oz Unsweetened Chocolate
2 tbsp unsalted butter
as needed Whipped Cream, for topping
---
Method
Combine almond meal, hazelnut meal, sugar and salt in a bowl. Add the melted butter -- mix well until the ingredients are well incorporated.
Pour the mixture into a 9" pie pan, spread out evenly and press firmly into place -- use the back of a measuring cup to do this easily.
Chill the pie crust for 2 hours before using.
In a medium sauce pan, combine the sugar, cocoa powder, espresso powder, cornstarch, all purpose flour and salt.
Whisk in ½ cup of the milk or half-n-half and whisk until the mixture is smooth. Whisk in the remaining 2 cups of milk or half-n-half.
Stir in vanilla, egg yolks and whisk until combined. Make sure there are no lumps.
Place the saucepan over medium-high heat and cook the mixture, stirring constantly until it starts to bubble and thicken, this takes about 6~8 minutes.
Cook for 2 more minutes and remove from the heat.
Stir in the chopped unsweetened chocolate and butter and let sit for a few minutes to melt. Stir to blend.
Pour the hot mixture into a bowl and place a plastic wrap right on top to prevent skin from forming. Refrigerate the filling for 2~4 hours or until the mixture is completely cool.
Pour the chilled mocha cream into the chilled pie shell and spread evenly. Top with the whipped cream and serve right away.