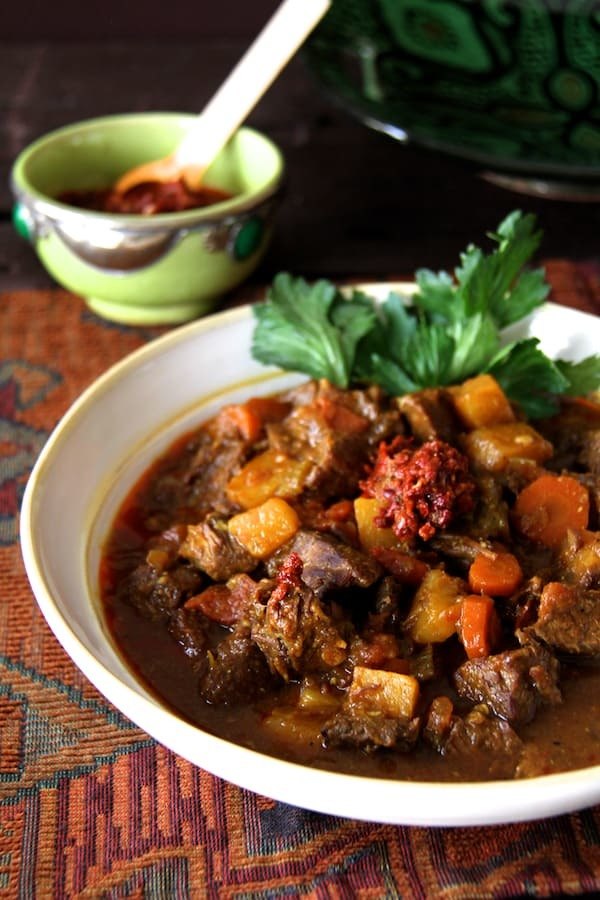 Mom's Moroccan Beef Stew
Recipe by From a Chef's Kitchen
Visit website
---
---
My Mom's Moroccan Beef Stew is hearty, flavorful and perfect for a chilly night!
---
---
Ingredients
stew
2 pounds cubed and trimmed chuck roast
3 tablespoons all-purpose flour
2 teaspoons salt
1 teaspoon freshly ground black pepper
2 tablespoons olive oil
1 teaspoon paprika
0.5 teaspoon ground coriander
0.5 teaspoon ground turmeric
0.5 teaspoon ground cumin
0.5 teaspoon ground ginger
0.25 teaspoon cayenne pepper
2 stalks celery
1 medium onion
2 large carrots
4 cloves garlic
2 cups beef broth
3 small plum tomatoes, coarsely chopped
1 cup coarsely chopped dried apricots
celery leaves
harissa
2 dried chipotle peppers
4 dried New Mexico chili peppers
1.5 teaspoons ground cumin
1 teaspoon ground coriander
4 cloves garlic
0.25 cup olive oil
1 teaspoon red wine vinegar
salt
---
Method
STEW: Combine flour, salt and pepper on a plate and dredge beef pieces.
Heat olive oil over medium-high heat in a Dutch oven and brown beef evenly in batches. Pour off excess drippings.
Combine the paprika, coriander, turmeric, cumin, ginger and cayenne and sprinkle over beef. Add the celery, onion, carrot, garlic and beef broth.
Bring to a boil, reduce heat to low, cover and cook 1 1/4 hours to 1 1/2 hours. Alternately, combine the ingredients in an electric pressure cooker and cook on High for 22 minutes or in a slow-cooker for 4 hours on High or 8 hours on Low.
Add the apricots and tomatoes and cook an additional 15 minutes on the stovetop or 1 more minute on high in the pressure cooker.
Garnish with celery sprigs and serve with harissa.
HARISSA: Place peppers in a small saucepan with enough water to cover. Bring to a boil. Turn off heat and let stand 20 minutes.
Remove stems and seeds and transfer to a food processor or blender.
Combine cumin and coriander in a dry, nonstick skillet and toast briefly until fragrant, about 30 seconds. Add to the peppers along with garlic, olive oil and red wine vinegar. Blend to a smooth paste. Season to taste with salt.