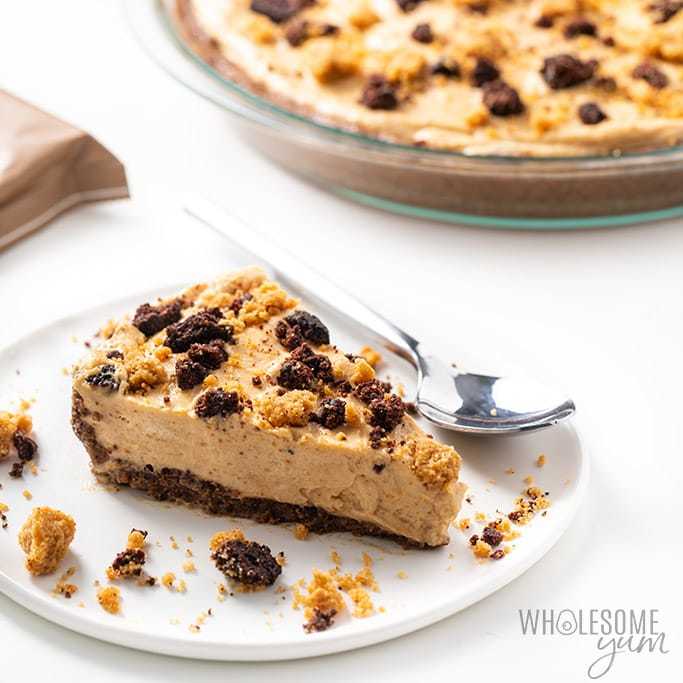 No Bake Frozen Keto Low Carb Peanut Butter Pie
Recipe by Wholesome Yum | Natural, gluten-free, low carb recipes
Visit website
---
---
See how to make the most decadent keto low carb peanut butter pie! This easy, frozen no bake peanut butter pie recipe has 5g net carbs + needs just 15 minutes prep.
---
---
Ingredients
2 packages Nui peanut butter cookies

((4 cookies))

1 package Nui double chocolate cookies

((2 cookies))

¼ cup butter

((salted, cold, cut into small chunks))

2 tbsp Powdered erythritol

¾ cup peanut butter

((creamy natural))

4 oz cream cheese

((softened))

⅓ cup Powdered erythritol

1 tsp vanilla extract

1⅛ cup heavy cream

((divided into 6 tbsp and 3/4 cup))
---
---
Method
Place the cookies into a food processor. Pulse until they are the consistency of crumbs.
Add the butter and powdered erythritol and pulse again, just until uniform and crumbly.
Chill the dough in the fridge for about 15 minutes, until it's less sticky and easy enough to work with.
Press the cookie dough into the bottom of the pan and up the sides of a 9-inch (23 cm) pie pan, to form the crust.
Freeze the crust for 20 minutes.
Meanwhile, in a large, deep bowl, beat together the peanut butter, cream cheese, and powdered erythritol for about 2 minutes, until fluffy. Beat in the vanilla extract. Beat in approximately 6 tablespoons (88 mL) heavy cream, 1 tablespoon (15 mL) at a time, until it reaches the consistency of thick frosting. The amount of cream you need will vary depending on how thick your peanut butter was, so just keep adding 1 tablespoon (15 mL) at a time until it's like a thick frosting.
In a second bowl, beat 3/4 cup (177 mL) heavy cream, until stiff peaks form. Fold the whipped cream into the peanut butter mixture.
Transfer the filling into the pie pan over the crust.
Freeze for at least 1 hour, until firm. Keep frozen, but let it sit on the counter to soften slightly if it's too hard right out of the freezer (similar to an ice cream cake). If you like toppings, you can add melted peanut butter drizzle, melted chocolate drizzle, and/or more Nui cookies crumbled on top (all of these are optional).