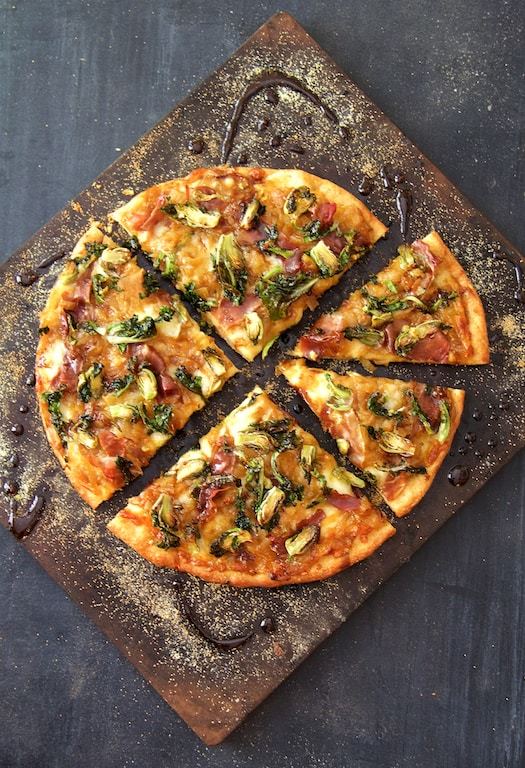 Pizza with Caramelized Onions Prosciutto Kale Sprouts and Balsamic Drizzle
Recipe by From a Chef's Kitchen
Visit website
---
---
Pizza night will never be the same! This sophisticated pizza is how to turn pizza night into a special occasion.
---
---
Ingredients
caramelized ONIONS

3 tablespoons butter

3 tablespoons olive oil

((divided))

2 medium onions

( (11/2-2 pounds), halved and thinly sliced)

1 teaspoon salt

pizza CRUST

1 package pizza crust yeast

1 cup warm water

1 teaspoon sugar

2 tablespoons olive oil

(plus more for bowl)

½ cup whole wheat flour

1½ cups all-purpose flour

(plus more as needed)

non-stick cooking spray

topping

2 cups kale sprouts

((about 4 ounces) halved )

2 cloves garlic

(minced)

2 cups shredded mozzarella cheese

3 slices prosciutto

( torn into pieces)

crushed red pepper flakes

(to taste)

balsamic drizzle

(purchased or homemade)
---
---
Method
CARAMELIZED ONIONS
Heat butter and olive oil over medium-high heat in a large skillet or sauté pan. Add onions, stir to coat with fat, cover, then reduce heat to medium. Cook covered, stirring several times for approximately 30 minutes or until softened. (Adjust temperature or add additional fat to keep them from burning.)
Uncover, add salt, reduce heat to medium-low and continue cooking another 30 minutes, stirring often until golden. (Keep an eye on them to ensure they don't burn.) Transfer to a colander or sieve to drain off any excess fat, reserving 1 tablespoon fat in the pan.
PIZZA CRUST
While the onions are cooking, prepare the pizza crust. Whisk together yeast, warm water and sugar in a large bowl. Let stand 15 minutes or until foamy.
Add salt, olive oil and flours and stir until blended. Turn out onto a floured surface and knead 8-10 minutes, adding all-purpose flour as necessary until you have soft dough that's still a bit sticky and that springs back from the touch.
Drizzle the bowl that you mixed the dough in with olive oil. Place the kneaded dough in the bowl, turn to coat with oil, cover with a clean kitchen towel, and let rise for 30 minutes.
TO FINISH PIZZA
Place the pizza stone in the oven and preheat the oven to 425 degrees. Spray a 12-inch round pizza pan with cooking spray. Divide the dough in half, reserving half for another pizza. Spread the pizza dough over the bottom of the pizza pan. (If the dough pulls back at all, let it rest several minutes before proceeding.) Set the pan on the baking stone and bake for 8 minutes.
Meanwhile, heat the reserved oil mixture from caramelizing the onions in a skillet or sauté pan. Cook the kale sprouts 1-2 minutes with the garlic.
Spread cheese over the pizza crust. Top with caramelized onions, prosciutto and kale sprouts. Transfer the crust to the hot baking stone. Bake 12-15 minutes or until the crust is golden and cheese has melted.
Sprinkle with crushed red pepper flakes and drizzle with balsamic drizzle. Cut into pieces and serve.