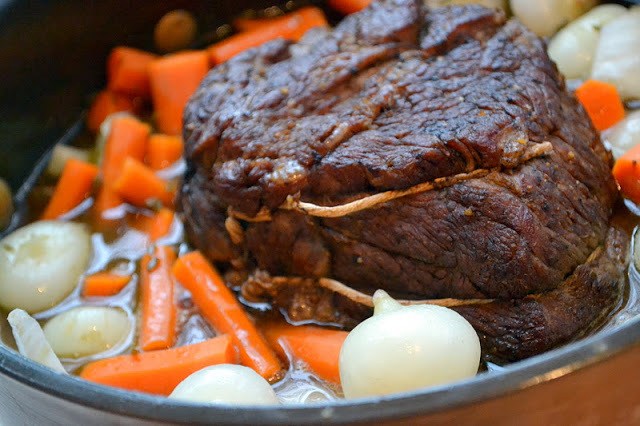 Pot Roast with Cipollini and Fennel
Recipe by The View From the Great Island
Visit website
---
---
Pot Roast with Cipollini and Fennel ~ I grew up on pot roast.  Just plain old pot roast, and I love it.  I love pot roast so much that I've never experimented with it.  I make it the same way my mother did and I've always been happy.  But I'm smart enough to know that it's important to be open to new ideas.  Like knowing when it's time to change lipstick colors (even though you still have 3 tubes of the one you hoarded when they stopped making it five years ago.) Cipollini (chip-oh-LEE-nee, or 'little onion' in Italian) are in season right now.  I just saw a beautiful bin of them at my market the other day.  As I was paying I wondered aloud if it could possibly be worth the trouble to peel them and the checkout woman told me about two methods…one is to put the onions in the freezer for 20 minutes before peeling, and the other is to blanch them in boiling water for 15 or 30 seconds and then plunge them in ice water.  Supposedly the skins will slide right off. I tried both ways.  The result: the freezer method is a bust, but …
---
---
Ingredients
tablespoon fresh rosemary

1 tablespoon  finely fresh thyme

1 tablespoon olive oil

1 teaspoon salt

1 teaspoon pepper

1 (2 1/2 lb.) boneless beef chuck roast

3 tablespoons olive oil

2 cups (3/4 lb.) cipollini onions

(peeled)

3 medium carrots, peeled and chopped into 3/4 inch pieces

1 medium fennel bulb, sliced into 1/2 inch pieces

salt

pepper

2 garlic cloves, peeled and crushed

1 cup dry sherry

4 cups beef broth

2 dried bay leaves

4 tbsp flour
---
---
Method
Set oven to 325F
Heat the olive oil in a large heavy bottomed pot. Salt and pepper the meat, and brown it for about 2 or 3 minutes on each of the 6 sides. Then add in the sherry, broth, herbs, and garlic. Cover the pan and put in the oven.
Peel the onions, peel and chop the carrots into large chunks, and trim and chop the fennel bulb into slices. After the meat has roasted for about 3 hours, take the meat out of the pan and put all of the veggies in. Then set the meat on top, cover and continue roasting for 1--1 1/2 more hours.
When the meat is done, take everything out of the pan and set the pan on the stove on low to medium heat. Add in 4 tbsp of flour mixed with 1/2 cup of water or stock, or if you have Wondra flour, just whisk it in. Stir until the gravy thickens. Taste for seasoning, and add in salt and pepper as needed. Slice the meat, and serve with the vegetables on the side (I like to include egg noodles as well), with gravy over all.
Note: Use a gluten free flour or thickener if you like.