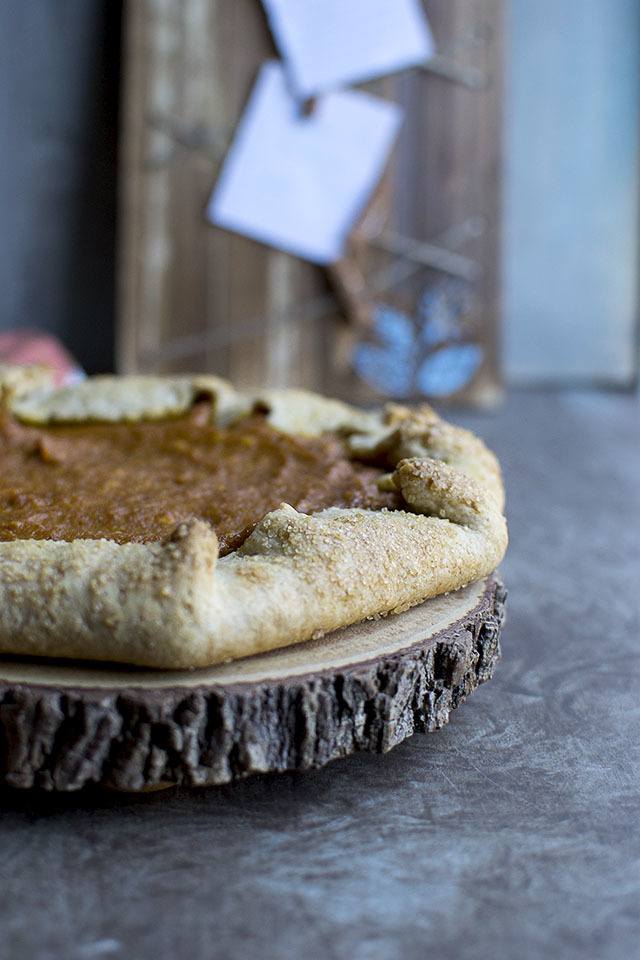 Pumpkin Galette
Recipe by Cook's Hideout
Visit website
---
---
---
---
Ingredients
1½ cups all purpose flour
0.25 cup Finely ground Cornmeal
1 tbsp sugar
0.25 tsp salt
1 tsp pumpkin pie spice
0.5 cup (8tbsp) Unsalted Butter, chilled and cubed
0.25 tbsp ice water
1 cup pumpkin puree
1 large egg
0.25 cup maple syrup
0.25 cup unsalted butter
2 tbsp cream cheese
1 tsp vanilla extract
0.25 tsp salt
1¼ tsp Pumpkin Spice mix
as needed Demerera Sugar or sparkling sugar
0.75 cup Cold Whipping Cream
2 tbsp maple syrup
0.5 tsp vanilla extract
---
Method
Pulse the flour, cornmeal, sugar, salt and pumpkin pie spice in a food processor until combined.
Add the butter and pulse until the mixture resembles coarse crumbs.
Drizzle in 2tbsp ice water and pulse until the dough is crumbly but holds together. Add more water, if needed, until the mixture holds together when squeezed.
Remove the dough onto a plastic wrap and gather into a ball. Flatten into a disc and wrap with the plastic wrap. Refrigerate for 30 minutes to 1 hour.
Preheat the oven to 400°F.
Combine pumpkin puree, egg, maple syrup, 3tbsp of the melted butter, cream cheese, vanilla, salt and pumpkin spice mix in a mixing bowl. Beat well until smooth, 2~3 minutes. Set aside.
Unwrap the dough on a parchment. Cover with another parchment and roll into a 12" round that is 1/8" thick.
Slide the dough along with the parchment onto the baking sheet. Remove the top parchment.
Spoon the pumpkin filling onto the center of the dough, leaving a 2" border around the edge. Fold the rim of the dough up and over the filling, overlapping the dough and pleat it as you go.
Brush the crust with 1tbsp melted butter and sprinkle generously with coarse sugar, if desired.
Bake the galette until the crust is golden brown, about 30~35 minutes. Transfer the galette onto a wire rack to cool completely.
Whip the cream along with maple syrup and vanilla extract until stiff peaks form.
Cut the galette into wedges and serve with a dollop of whipped cream on top. Dust with ground cinnamon.