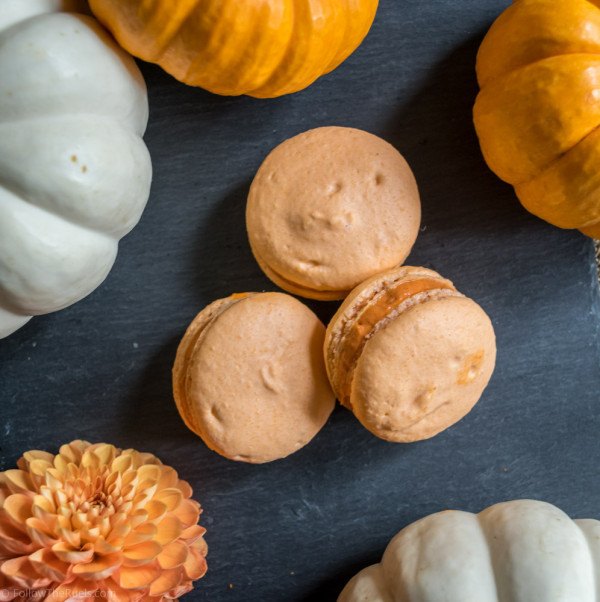 Pumpkin Spice Macarons
Recipe by The Honey Blonde
Visit website
---
---
Pumpkin spice French macarons.
---
---
Ingredients
2 egg whites

(room temperature)

pinch cream of tartar

¼ granulated sugar

1 tsp vanilla

¾ cup almond meal

(sifted)

1 cup confectioners sugar

(sifted)

orange food coloring

4 oz cream cheese

(softened)

¼ cup, pumpkin puree

½ cup confectioners sugar

½ tsp vanilla

orange food coloring
---
---
Method
In the bowl of a stand mixer, fitted with a whisk attachment, begin beating the egg whites until the become foamy. Add cream of tartar and continue to whisk until soft peaks form. Add in sugar and continue to whisk until egg whites for stiff peaks. Slowly mix in vanilla and food coloring. In a separate bowl, whisk together almond meal and confectioners sugar until completely mixed and there are no lumps. Slowly pour in almond-sugar mixture into egg whites and gradually fold in the mixture. Continue to fold and gently stir until almond-sugar mixture is completely incorporated. Be careful not to over-mix or under mix. Mixture is just right when it barely falls off a spatula in one consistent ribbon of batter, not in chucks, and not too fluid. Transfer mixture to a piping bag and cut about an inch off the tip. Pipe 1 inch circles onto a baking sheet lined with parchment paper about 1 inch apart. Once piped, tap the baking sheet on the counter to get rid of bumps and and air bubbles. Let sit for at least an hour for the macarons to harden slightly. Meanwhile, preheat the oven to 375. Once a film has formed on the macarons, reduce heat to 325 and bake macarons for 10-15 minutes, until tops are hard. Allow to cool completely before removing from the parchment paper. Meanwhile, mix together all filling ingredients in a small bowl. Beat until smooth. Transfer to piping bag and remove 1 inch from the tip. Pipe about 1 tablespoon of filling on to one macaron, then top off with a similar sized macaron.