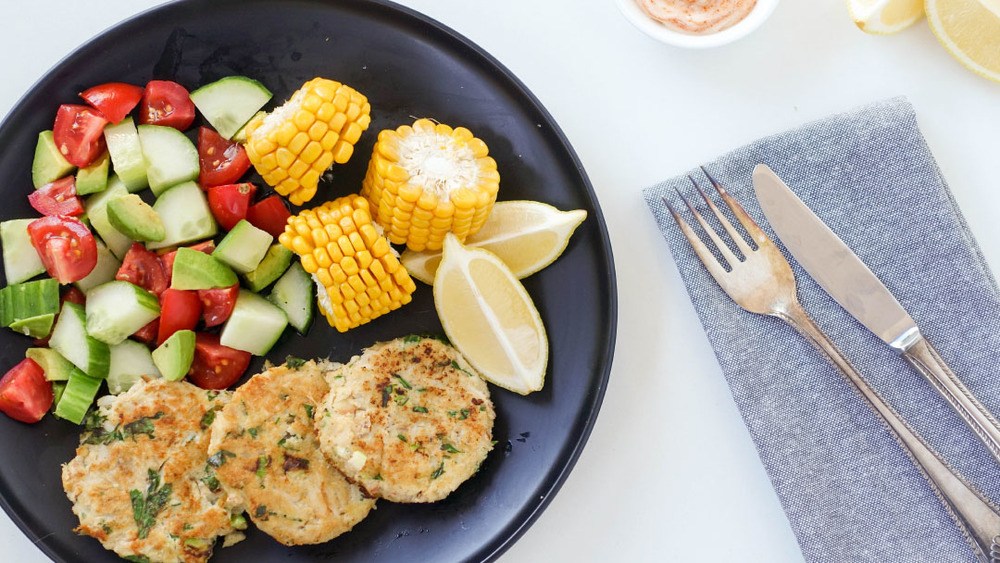 Quick & Tasty Crab Cakes
Recipe by You Totally Got This
Visit website
---
---
Love a crab cake, but the deep fried version leaves you feeling bloated and meh? Healthy crab cakes to the rescue. Get the quick and tasty recipe here...
---
---
Ingredients
300 g of ready to eat crab meat

2 spring onions chopped thinly

2 tbs finely chopped parsley

juice and zest of ½ lemon

1 egg

tsp dijon mustard

½ cup almond meal

2 tsp olive oil

((divided))

1 lebanese cucumber

½ avocado

12 cherry tomatoes

½ zest and juice of lemon

salt and pepper for seasoning

1 corn cob

(husk on)

2 tbs mayonnaise

½ tsp smoky paprika
---
---
Method
In a large bowl mix together all the crab cake ingredients and season with salt and pepper. You will know that the mixture is right, when you can pick it up and squeeze it into a ball. If the mixture seems too wet (it shouldn't), just add a little more almond meal.
Use your hands to divide the mixture into 6 balls, and flatten them with your hands to make patties.
Heat 1 tsp of oil in a frying pan on medium to high heat, making sure the entire pan is covered (add a little extra olive oil if you need to). Cook the crab cakes for 3 minutes on each side or until both sides are crisp and golden. If you need to cook them in batches remember to add another tsp of olive oil to the pan before your second batch. When they are done, remove to a plate covered with paper towel. The insides will still be soft, but that's okay you don't want to over cook them.
While the crab cakes are cooking, make the salad by dicing the cucumber, tomatoes and avocado. When done, give the salad a good squeeze of lemon and season with salt and pepper. You can do it right there on the chopping board (who wants to clean another bowl?) Put the corn (husk on) in the microwave for 4 minutes resting on a microwave safe plate or dish. When the corn is cooked, remove the husk (it will come off super easily) and chop it into rounds. Finally, put the mayo in a small bowl and stir in the smoky paprika.
When all the crab cakes are cooked. Divide the crab cakes, salad and corn between 2 plates and serve with the paprika mayo.