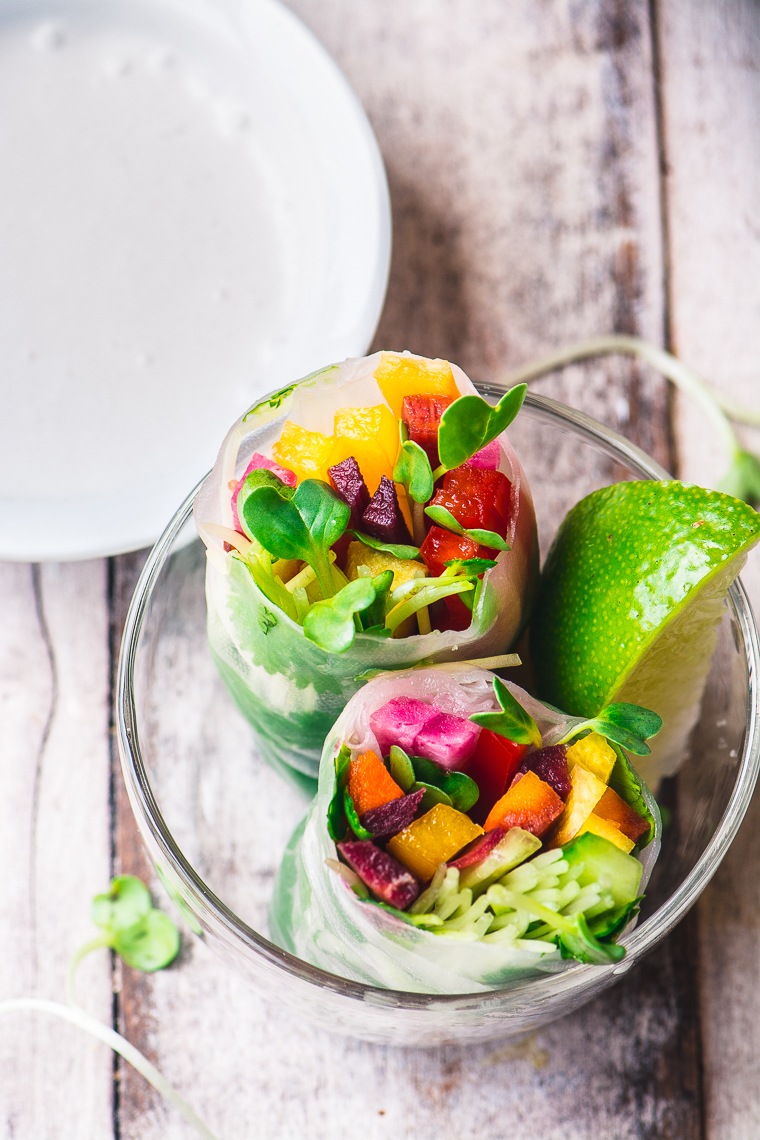 Rainbow Summer Rolls
Recipe by The View From the Great Island
Visit website
---
---
Rainbow Summer Rolls are a healthy and refreshing Vietnamese salad wrap filled with colorful veggies for an amazing crunch ~ they're vegan and gluten free!
---
---
Ingredients
10 9-inch rice paper spring roll wrappers

3 rainbow carrots of assorted colors

1 orange carrot

1 watermelon radish

½ jicama

2 persian cucumbers

1½ cups sprouts, any type

handful cilantro or basil leaves

dipping SAUCE

½ cup coconut milk

juice of 1-2 limes
---
---
Method
Peel and cut your carrots, radish, jicama, and cucumbers into very thin matchsticks, about 5 inches long, or as close as you can get to that. Don't stress too much about the length. Keep them under a wet kitchen towel so they won't dry out as you work. If you plan to chop your veggies ahead of time, make sure they are well wrapped and kept damp.
Pour a little cool water into a large pie plate or other dish that is large enough to fit the spring roll wrappers. Work one at a time and immerse a wrapper into the water for about 15 seconds, just until it starts to soften.
Lay the wrapper on a flat surface and arrange a few of the cilantro or basil leaves, face down, onto the center of the wrap. Pile the cut veggies on top of the herbs. Bring the edge of the wrap up and over the pile of veggies, folding in each side as you go, just like you would wrap a burrito or flatbread sandwich wrap. Slice in half with a very sharp knife before serving. Place the rolls under a damp paper towel while you make the others, to keep them moist.
To make the sauce whisk the coconut milk together with the lime juice, adding the lime juice to your taste. If you are making it ahead, the coconut milk will solidify in the refrigerator, so bring it to room temperature before serving.