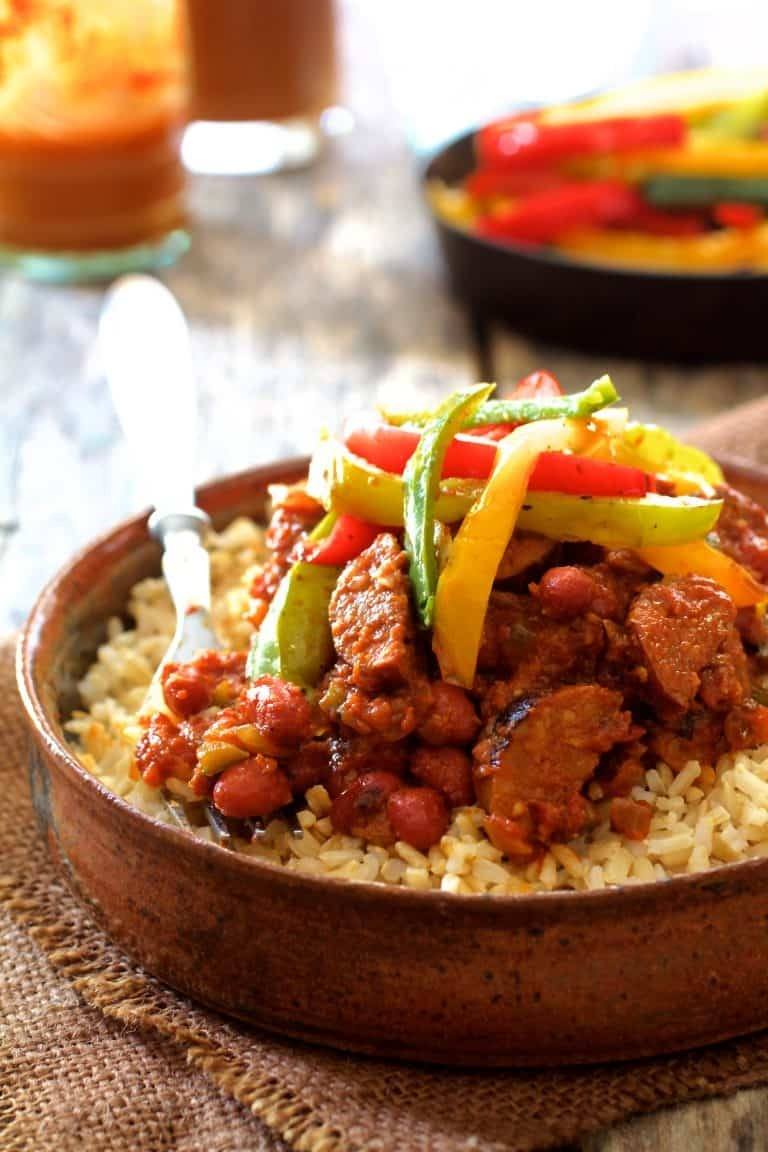 Red Beans and Rice with Chorizo and Bell Pepper Saute
Recipe by From a Chef's Kitchen
Visit website
---
---
This Tex-Mex inspired Red Beans and Rice with Chorizo and Bell Pepper Saute is perfect fall comfort food that's still on the light side!
---
---
Ingredients
2 tablespoons canola or olive oil
3 Mexican chorizo sausage
1 medium onion
1 ancho pepper
3 cloves garlic
1.5 tablespoons chili powder
2 teaspoons ground coriander
2 teaspoons ground cumin
2 teaspoons dried Mexican oregano
1 large bay leaf
1 can (15-ounce) crushed tomatoes
1 can (14.5-ounce) chicken broth
1 can (15-ounce) red beans
salt and freshly ground black pepper
Hot sauce
cooked brown rice
sauteed PEPPERS
2 tablespoons canola oil
1 red bell pepper
1 yellow bell pepper
1 green bell pepper
3 cloves garlic
1 tablespoons fresh lime juice
salt and freshly ground black pepper
---
Method
Heat oil in a large saute pan over medium-high heat. Add the fresh chorizo links, reduce heat to medium and brown well on all sides. (Will not be completely cooked through at this point.) Transfer to a cutting board to cool. When the chorizo is cool enough to handle, slice lengthwise, then slice into 1/2-inch pieces.
Meanwhile, add onion and Ancho pepper to the pan. Cook 4-5 minutes on medium-low or until beginning to soften. Add the garlic, chili powder, coriander, cumin, oregano and bay leaf and cook briefly, approximately 15 seconds.
Add the tomatoes, chicken broth, chorizo and beans. Bring to a boil, reduce heat to low and simmer 12-15 minutes or until thickened and chorizo is thoroughly cooked through. Remove bay leaf.
Season to taste with salt, black pepper and hot sauce. Serve with brown rice and sauteed peppers.
PEPPERS
Heat canola oil in a saute pan over medium-high heat. Add the bell peppers and garlic and cook 3-4 minutes or to desired doneness. Add lime juice and salt and pepper to taste. Serve atop beans and rice.