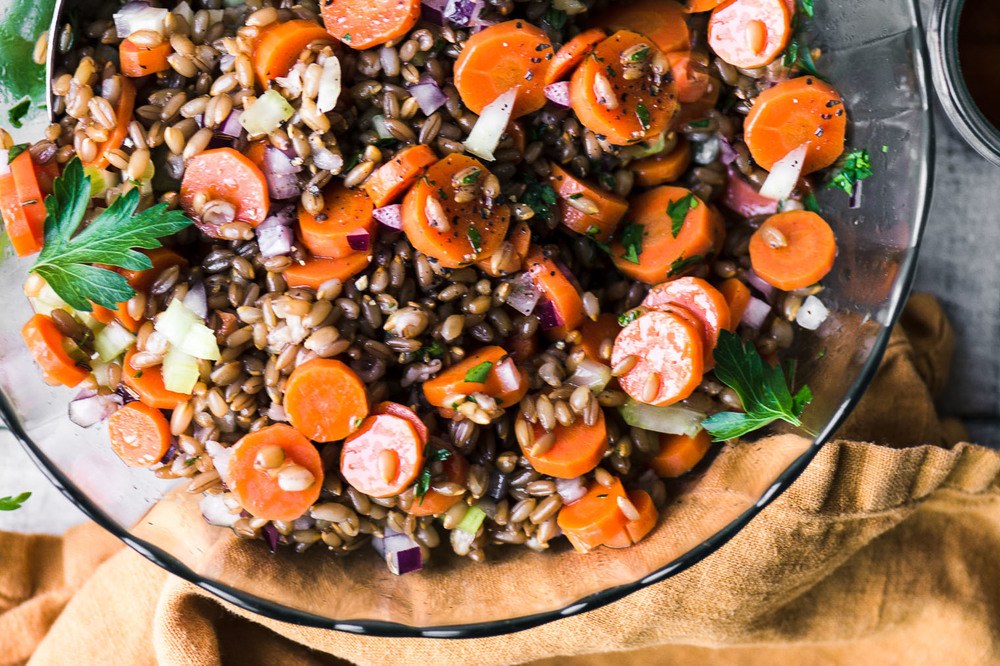 Rye and Carrot Salad
Recipe by The View From the Great Island
Visit website
---
---
Rye and Carrot Salad Salad ~ this easy grain based salad is perfect for the cooler months...it's wholesome, satisfying, and incredibly tasty!
---
---
Ingredients
1 cup rye berries

½ tsp salt

3 carrots peeled and sliced

(about 2 cups)

1 stalk celery, cut in a fine dice

¼ red onion, cut in a fine dice

½ tsp caraway seeds

salt and cracked pepper to taste

dressing

¼ cup extra virgin olive oil
---
---
Method
Rinse the rye and put in a saucepan with 3 1/2 cups water and the salt. Bring to a boil, then lower the heat, cover, and cook for about an hour, or until the grains have lost their crunch but are still firm and chewy. Drain and rinse in cold water. Let drain well, and then put in a large bowl.
Meanwhile put the carrots in a saucepan and add enough water to barely cover. Bring to a boil and boil for several minutes, just until the carrots are tender. Drain and rinse in cold water. Let them drain well and add them to the bowl with the rye, along with the celery, onion, and caraway seeds.
Whisk the dressing together and taste to adjust the ratio of oil to vinegar. Add enough to thoroughly moisten the salad, you may not need all of it. Toss well and season to taste with salt and fresh cracked pepper.
Refrigerate until ready to eat. The salad will keep for a week tightly covered in the refrigerator.