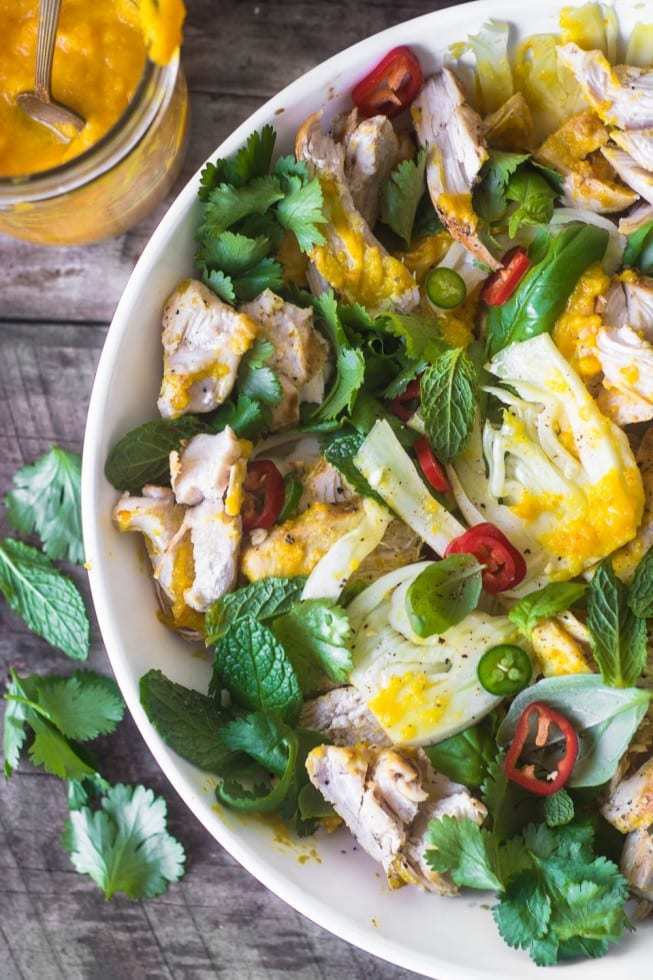 Saffron Chicken & Herb Salad
Recipe by The View From the Great Island
Visit website
---
---
Saffron Chicken & Herb Salad is a unique and explosive combination of flavors --- i guarantee it's like no other chicken salad you've ever had!
---
---
Ingredients
1 orange
1 tbsp honey
0.5 tsp saffron threads
1 tbsp white vinegar
1.25 cups water
2 skinless, boneless chicken breasts
4 tbsp olive oil
2 small fennel bulbs, trimmed and very thinly sliced
handful of cilantro leaves
handful of basil leaves, torn, if large
smaller handful mint leaves, torn if large
2 tbsp fresh squeezed lemon juice
1 hot chile pepper, preferably red
1 clove garlic
salt and fresh ground black pepper
---
Method
Set oven to 400F
Slice off both ends of the orange, and then cut into 12 wedges. Remove any seeds. Put the wedges, peel and all, into a small saucepan with the honey, saffron, and vinegar. Add just enough water to cover the oranges. Bring to a boil and simmer for about an hour, or until it is reduced to a thick syrup. Add a bit more water during cooking if it gets too dry. Use a food processor or immersion blender to puree the mixture into a smooth 'sauce', adding a little more water if is too thick to pour.
Rub the chicken breasts with half the oil, and salt and pepper. Brown on both sides on a hot grill pan for 2 minutes per side, or until you get good grill marks. Transfer to a baking sheet and cook for another 15 to 20 minutes, until just done inside.
Cool the chicken until you can handle it and then tear it into large bite sized pieces. Put the chicken in a large salad bowl and toss with some of the orange paste. I used enough to lightly coat the chicken. (You won't need all of the sauce.)
Add the remaining ingredients to the bowl, including the remaining 2 Tbsp olive oil Toss gently.
Season with salt and pepper and taste to adjust any of the seasonings.