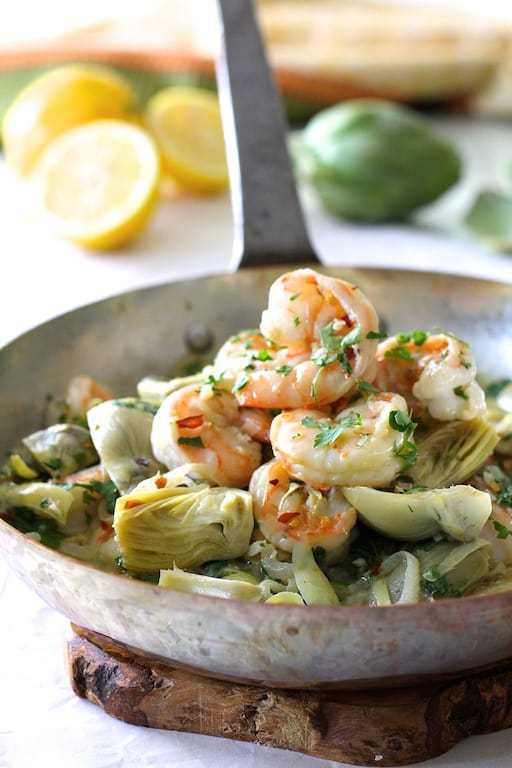 Shrimp Scampi with Shallots and Artichokes
Recipe by From a Chef's Kitchen
Visit website
---
---
Here's a lovely pairing of classic Italian Shrimp Scampi with Shallots and Artichokes that is sheer genius and perfect for the season!
---
---
Ingredients
4 large lemons

1 package of baby artichokes

(usually 9 count)

salt and freshly ground black pepper

(to taste)

2 tablespoons olive oil

((divided))

2 small shallots

(thinly sliced)

3 cloves garlic

(minced)

⅓ cup dry white wine

¾ pound large shrimp

(peeled, deveined and tail removed )

4 tablespoons softened butter, regular or light

½ teaspoon crushed red pepper flakes

(or to taste)

¼ cup chopped fresh Italian parsley
---
---
Method
Fill a small mixing bowl with water. Juice the lemons and place the juice of 3 of the lemons in the water. Reserve the juice of the remaining lemon.
Trim the baby artichokes. Remove the tough outermost leaves until pale green appears about halfway up the artichoke. Cut off the stem and trim the rough edges at the base where the leaves were removed. Cut off the top of the artichoke about 3/4 of an inch down from the tip. Immediately submerge in the lemon water. When finished trimming all the artichokes, cut each one into quarters and immediately place back in the acidulated water.
Transfer artichokes and 1 cup of the acidulated water to a skillet or sauté pan. Season with salt and black pepper. Bring to a boil, reduce heat to medium-low, cover and simmer 8-10 minutes or until artichokes are easily pierced with a knife. Drain in a colander and set aside.
Heat olive oil over medium-high heat in the skillet or sauté pan. Add the shallots and cook 8-10 minutes or until softened, being careful not to brown. Add the garlic and drained artichokes and cook briefly, about 30 seconds.
Add the white wine and the reserved lemon juice. Bring to a boil, cook 1 minute. Reduce heat to low, stir in the shrimp and cook gently until the shrimp are cooked through. Stir in the butter, red pepper flakes and parsley. Adjust seasoning if necessary with salt. Serve immediately.