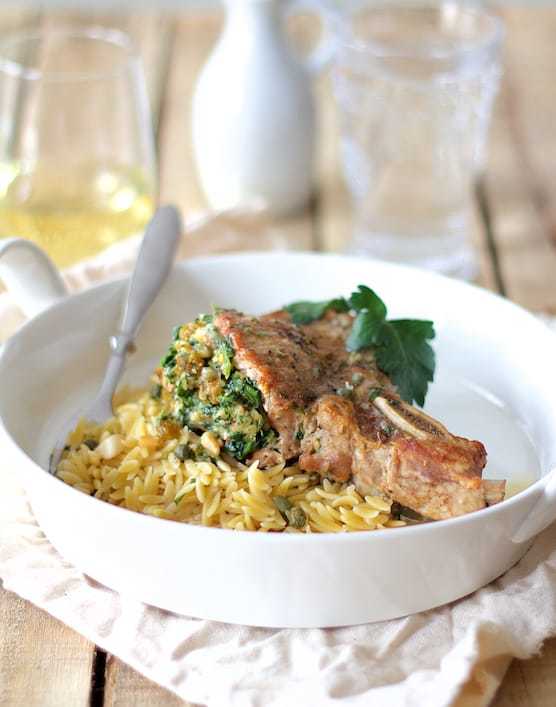 Sicilian Stuffed Pork Chops with White Wine and Caper Sauce
Recipe by From a Chef's Kitchen
Visit website
---
---
These Sicilian Stuffed Pork Chops with White Wine and Caper Sauce are an elegant way to dress up a dinnertime staple--the pork chop!
---
Servings
Cuisines
Courses
---
Ingredients
2 pork rib chops
salt and freshly ground black pepper
1 cup frozen chopped spinach
6 cloves garlic, 2 minced, 4 sliced
1 tablespoon pine nuts, lightly toasted
1 tablespoon (generous) golden raisins
2 tablespoons freshly grated Parmesan cheese
1 tablespoon Italian-style bread crumbs
0.5 teaspoon crushed red pepper flakes
1 tablespoon olive oil
3 tablespoons butter
0.5 cup dry white wine
1 cup chicken broth
2 tablespoons capers
fresh parsley
hot cooked orzo pasta
---
Method
Preheat oven to 350 degrees.
Cut a pocket in the chop about 3-4 inches long and almost as far as the bone. Season inside and outside with salt and black pepper.
Thaw spinach in a glass bowl in the microwave but do not squeeze the water from it. (Let cool if it's steaming.) Add 2 cloves minced garlic, pine nuts, raisins, cheese, breadcrumbs and crushed red pepper flakes. Season with salt and black pepper to taste.
Stuff even amounts of the filling into the pocket of the pork chop. Secure with toothpicks.
Heat olive oil and 1 tablespoon butter over medium-high heat in an oven-safe skillet, sauté pan or Dutch oven. Brown the chops 2-3 minutes per side or until nicely browned. Transfer to a plate.
Add the wine to pan, bring to a boil and scrape up any browned bits. Add chicken broth and sliced garlic and bring back to a simmer. Place chops back in the pan, cover securely and bake 1 hour or until chops are tender, turning once.
Stir in remaining butter and capers. Serve chops over hot cooked orzo pasta and drizzle with pan sauce.