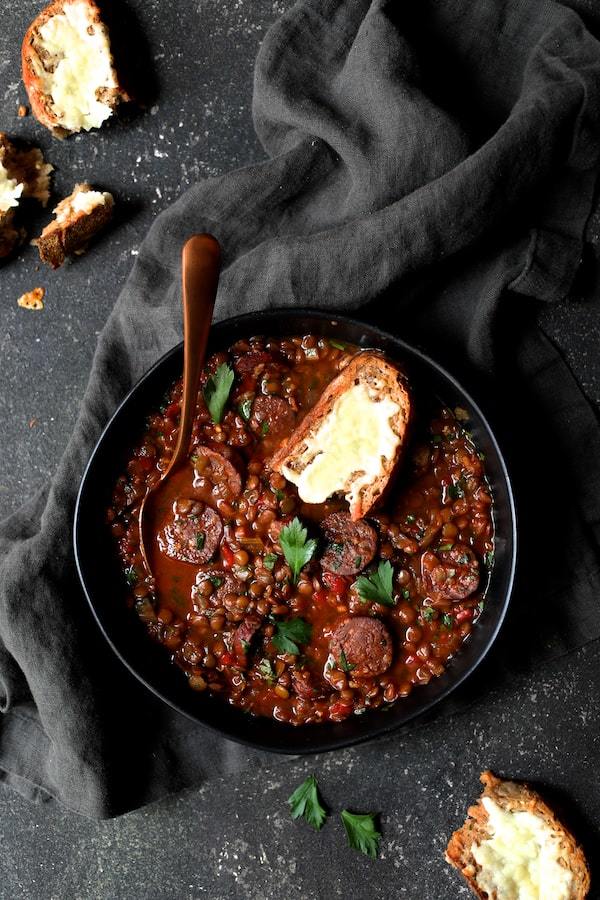 Soupy Spanish Lentils with Chorizo and Manchego Toast
Recipe by From a Chef's Kitchen
Visit website
---
---
Soupy Spanish Lentils with Chorizo and Manchego Toast - Braised lentils with spicy chorizo sausage kicked up with red wine and Spanish spices and served with crusty bread topped with melted Manchego cheese is perfect winter comfort food!
---
---
Ingredients
lentils
2 tablespoons olive oil
1 pound fresh chorizo sausage
1 large onion
2 stalks celery
6 cloves garlic
1 jar (12-ounce) roasted red bell peppers in olive oil, drained and coarsely chopped
3 tablespoons tomato paste
1 cup dry red wine
4-6 cups chicken broth
1.5 cups brown lentils
1 teaspoon smoked paprika
1 teaspoon crushed red pepper flakes
salt and freshly ground black pepper
1 tablespoon red wine vinegar
0.25 cup fresh parsley
toast
1 loaf whole-grain rustic bread
4 tablespoons butter
4 cloves garlic
1.5 to 2 cups grated "young" Manchego cheese
---
Method
LENTILS: Heat olive oil over medium-high heat in a large skillet or deep saute pan. Place sausages in the pan and cook 6 to 7 minutes, turning to brown on all sides. Transfer to a plate. (Sausages will not be cooked all the way through at this point.)
Place onion in the hot fat. Reduce heat to medium and cook 7 to 8 minutes or until beginning to soften. Add the celery and cook 4 to 5 minutes more.
Add the garlic, stir until fragrant. Add the chopped roasted red bell pepper, the tomato paste, the wine and cook 1 minute.
Add 4 cups of chicken broth and bring to a boil. Add the lentils, smoked paprika and crushed red pepper flakes. Bring to a boil.
Slice chorizo into 1/4 to 1/3-inch slices. Add to the pan with the lentils.
Reduce heat, cover slightly and simmer 30 to 45 minutes or until lentils are tender, adding additional chicken broth as needed to maintain a "soupy" consistency. Adjust seasoning with salt and black pepper. Let rest while making the toast.
TOAST: Preheat broiler on high. Combine softened butter and garlic. Spread over the slices of bread then top with grated cheese.
Place on a baking sheet then place under the broiler for 2 to 3 minutes or until hot and bubbly.