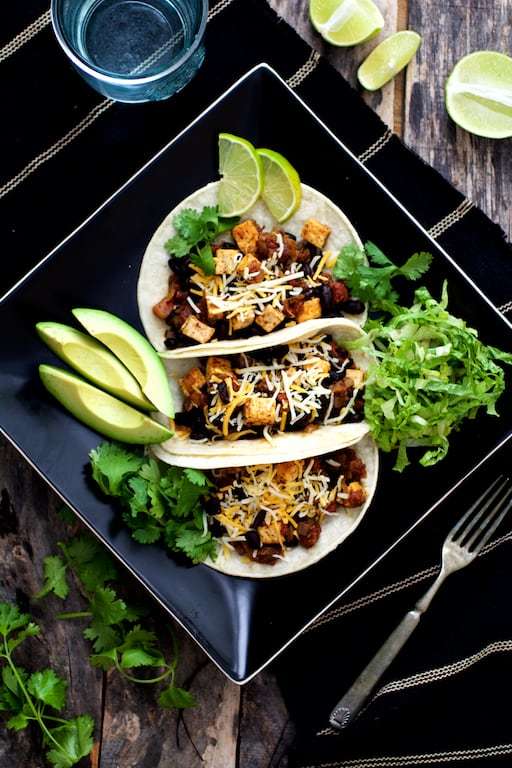 Tofu and Black Bean Tacos
Recipe by From a Chef's Kitchen
Visit website
---
---
Tofu and Black Bean Tacos are easy and a healthful way to enjoy tacos.  Even a diehard carnivore won't miss the meat!
---
---
Ingredients
14 ounce Block extra-firm tofu
2 tablespoons chili powder
2 teaspoons ground cumin
2 teaspoons ground coriander
2 teaspoons dried Mexican oregano
0.5 teaspoon chipotle powder
0.5 teaspoon salt
0.5 teaspoon freshly ground black pepper
2 tablespoons canola oil
1 small Onion
3 cloves garlic
1 can (10-ounce) diced tomatoes with green chiles
1 can (15-ounce) black beans
0.25 cup cilantro
8-10 tortillas (corn or flour), warmed
shredded cheese, shredded lettuce, chopped green bell pepper, sour cream, lime wedges, chopped scall
---
Method
Cut tofu into six "slabs" lengthwise. Lay tofu out on several layers of paper towels or a clean kitchen towel. Place several more layers of paper towels or another kitchen towel over the tofu. Top with a baking sheet and place something heavy such as several cookbooks on the baking sheet. Let drain 1 hour. Cut tofu into cubes.
Combine chili powder, cumin, coriander, oregano, chipotle powder, salt and black pepper in a small bowl. Season tofu cubes with half of the spice combination.
Heat half the canola oil in a nonstick skillet over medium-high heat. Add the tofu and sear well on all sides. Transfer to a plate or bowl.
Heat remaining oil over medium-high heat. Add the onion, reduce heat to medium and cook 8-10 minutes or until soft.
Add the remaining spice combination, garlic and tomatoes. Bring to a boil. Stir in black beans and tofu and heat through. Stir in cilantro. Adjust seasoning with salt and black pepper.
Serve in tortillas with all your favorite taco "fixins!"