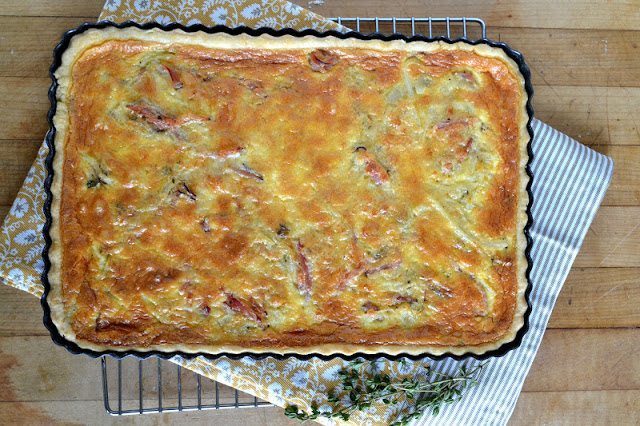 Vidalia Onion and Ham Quiche
Recipe by The View From the Great Island
Visit website
---
---
Vidalia Onion and Ham Quiche ~ Vidalias are famous for being so mild they can be eaten raw, like an apple, but they're wonderful cooked as well ~ any sweet onion will work in this wonderful quiche.
---
---
Ingredients
crust
2.5 cups flour
2 sticks unsalted butter, cold and cut in pieces
1 tsp salt
0.25 cup ice water, more if necessary
quiche
2 vidalia onions, halved and thinly sliced
2 tbsp olive oil
0.25 lb Black Forest ham, sliced thin from the deli counter
salt
fresh cracked pepper
fresh thyme leaves
5 eggs
1 oz 8 container Marscapone cheese
1 cup heavy cream, half n half, or 1/2 milk, 1/2 cream
0.5 cup grated Parmesan cheese
---
Method
Make the crust ~ put the flour salt and in a processor and pulse to combine.
Add the pieces of butter and process until grainy.
While pulsing, add in the ice water, starting with 1/4 cup, just until the dough comes together.
Empty the bowl of the processor onto a sheet of plastic wrap and bring it together into a dough.
Cut the amount in half, shape into disks, and wrap each disk in plastic.
Refrigerate for 2 hours before rolling out one of the disks to fit your pie or tart pan.
Put the tart pan back in the refrigerator to keep it cold while you make the quiche filling.
Set oven to 350F
Heat 2 Tbsp of olive oil in a large shallow pan and saute the onions until they are softened and translucent. Season with salt, pepper and thyme leaves.
Layer all the ham slices on top of each other and roll the whole pile up tightly. Slice the roll into thin ribbons. I like to cut the ham this way so it gets incorporated throughout the quiche, and the thin ribbons complement the onion slices. Add to the onions and mix well.
In the bowl of a food processor put the eggs, cream, Marscapone and Parmesan cheeses. Whirl until thoroughly blended.
Distribute the onion and ham mixture evenly onto the dough in your quiche pan.
Pour the custard mix evenly over the top. Use as much of the custard as necessary to fill but not overfill your pan.
Bake for about 45-50 minutes until the quiche is browned and set and a toothpick comes out clean.