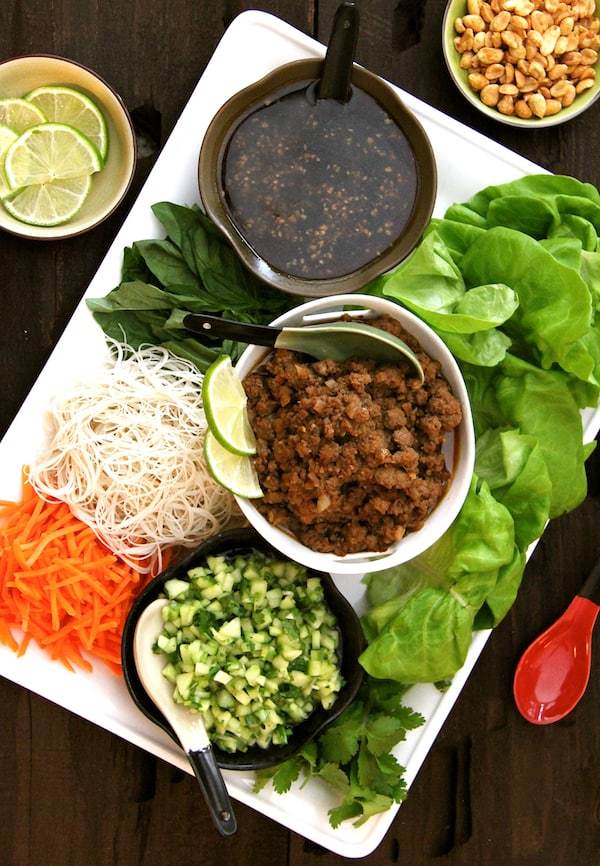 Vietnamese Beef Lettuce Wraps with Rice Noodles and Cucumber Relish
Recipe by From a Chef's Kitchen
Visit website
---
---
These Vietnamese Beef Lettuce Wraps with Rice Noodles and Cucumber Relish are a fun, festive and healthful summertime dinner for two.
---
---
Ingredients
dipping SAUCE
0.25 cup water
2 tablespoons soy sauce
1 tablespoons lime juice
1 teaspoon lime zest
1 teaspoon fish sauce
1 teaspoon sugar
1 teaspoon ginger
1 garlic clove
filling
1 tablespoon canola oil
1 small Onion
0.75 pound lean ground beef
1 tablespoon ginger
2 garlic cloves
0.5 cup chicken or vegetable broth
2 teaspoons fish sauce
0.25 cup soy sauce
1 tablespoon rice vinegar
1 teaspoon brown sugar
2 teaspoons Chili garlic sauce
freshly ground black pepper
cucumber RELISH
1 english (hothouse) cucumber, peeled, seeded and chopped
3 scallions, white and light green part only
0.25 cup cilantro
2 tablespoons rice vinegar
1 teaspoon canola oil
1 teaspoon sugar
salt and freshly ground black pepper
lettuce AND TOPPINGS
6 large leaves Boston lettuce
1 sprig fresh basil
0.5 cup shredded carrots
1 ounce rice noodles
0.5 cup Peanuts
lime wedges
---
Method
SAUCE: Combine all sauce ingredients in a small bowl. Divide into small bowls for each diner.
FILLING: Heat oil in large skillet over medium heat. Cook onion and ginger 4-5 minutes or until softened. Add garlic and beef. Cook 4-5 minutes or until beef is browned and no longer pink, crumbling the beef into small pieces as you go. Drain well. Stir in remaining filling ingredients. Bring to a boil, reduce heat and simmer 10-15 minutes stirring occasionally or until almost evaporated.
RELISH: Combine all ingredients in a bowl.
TO ASSEMBLE: Spoon meat mixture onto lettuce leaves, top with basil, carrots, rice noodles, peanuts and lime wedges as desired. Roll up and serve with dipping sauce.