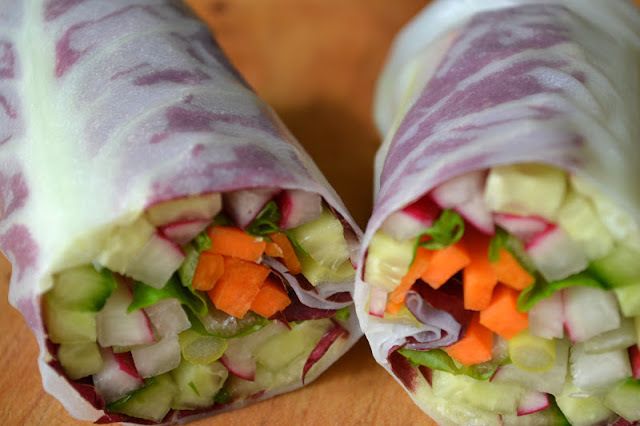 Vietnamese Summer Rolls with Spicy Peanut Dipping Sauce
Recipe by The View From the Great Island
Visit website
---
---
With a package of spring roll wrappers you can make these Vietnamese Summer Rolls with what you probably already have in the fridge.
---
---
Ingredients
1 package spring roll wrappers

radicchio leaves or any leafy green

watercress

julienned carrots

julienned English cucumber

(skin on)

julienned scallions

julienned radishes

mint leaves

cilantro leaves

spicy Peanut Dipping Sauce

6 tbsp soy sauce

4 tbsp rice vinegar

(I used cider vinegar)

4 tbsp creamy peanut butter

1 tbsp brown sugar

1 tbsp sesame oil

1 tbsp grated fresh ginger

t tsp red chili flakes

chopped roasted peanuts for garnish
---
---
Method
Gather all your clean, trimmed veggies together on a work surface.
Put a little warm water in the bottom of a flat dish, a pie plate works well. Working with one rice paper wrapper at a time, submerge and soak it in the water for just about 10 seconds, to soften it. Don't soak it too long or it will become fragile.
Place your wrapper flat down and layer radicchio leaves down on it, leaving at least an inch all around.
Then lay your other veggies on top, in any configuration you want. Play around with them; you can make them thick, or thin, and depending on how you layer your vegetables, the cut rolls will have a different look.
Fold the top edge of the wrapper over, then starting from one side, fold the whole circle over, like a taco or an omelet.
Fold the bottom up, and continue to wrap the roll, using a firm pressure to get a nice, tight roll. It will probably take you a roll or two to get the hang of it. My first attempts were too loose.
Cut the roll in two, either on a diagonal, or straight across. Set on a plate, but don't let the rolls touch or the rice wrappers can stick together.
Serve with dipping sauce.
To store, cover with a damp paper towel and plastic wrap.
To make the sauce, whisk all the ingredients together in a measuring cup until it becomes a smooth sauce. Taste and adjust as you see fit.